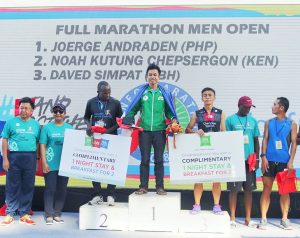 KOTA KINABALU:  About 10,000 people ran together in the UNICEF Borneo Marathon today as part of an awareness initiative to curb bullying.
The event organized by   the UNICEF Borneo Marathon in Kota Kinabalu, was part of the #StandTogether campaign.
"Bullying hurts – often in ways we cannot see. Words, stigma and exclusion, more than sticks andstones, break self-esteem leaving children feeling isolated and alone," said Marianne Clark-Hattingh, UNICEF Representative to Malaysia.
"We ran this Sunday to show the victims that they are not alone. We ran so we don't repeat cycles of violence by bullying the bully. We will run to counter bullying with kindness. It is through acts of kindness that we will end violence for every child."
With the support of the Ministry of Education, over 700 schools across Malaysia joined the nationwide #StandTogether campaign and participated in the first ever National Kindness Week in April.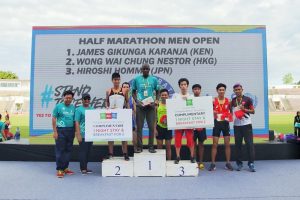 Over 100 student-led projects were implemented throughout the country to curb bullying with kindness in the school environment.
SMK Sanzac from Sabah, triumphed over 120 others in a competition to be named "Malaysia's Kindest School". Their #StandTogether "kindness project", consisted of a week full of activities like "plogging", a combination of jogging and picking up trash, and "Act It Out", a competition to produce videos on kindness and cyber bullying.
"Our school used to be notorious for bullying", said Adam Bin Jose, 17, student from SMK Sanzac.
"There was a huge need to address bullying so that we create a harmonious environment. By being kind, we build positive connections – for example, students saying kind words will encourage others to act the same. Winning this award is a welcomed change for our school and proves that our students are improving."
Children with and without disabilities ran a 3km route alongside their friends and families as a pledge to be kind.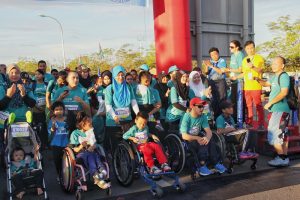 The #StandTogether campaign is a call to bystanders to stand in solidarity with victims, showing them that they were not alone.
"The UNICEF Borneo Marathon is a charity event; and a professional race for a good cause. We run together because we care about others; because we want to make an impact on children around us. This year we put our running shoes on to say no to bullying, yes to kindness," said Datuk Dr Heng Aik Cheng, President of Kinabalu Running Club and Race Director of the Borneo Marathon.
Para athlete Felicia Mikat, and former One Championship athlete Ann Osman led the race participants in the pledge to create a kinder community.
The race was supported by the Sabah Tourism Board, Sabah Youth and Sports Ministry, Kota Kinabalu City Hall, Royal Malaysian Police, Sabah Health Department, Sabah Education Department and Public Works Department.  –pr/BNN