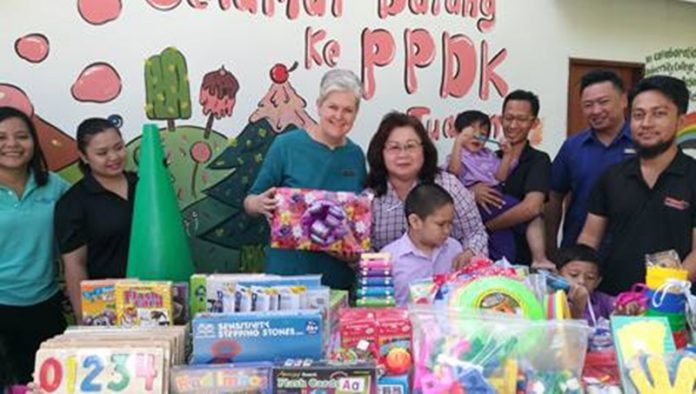 KOTA KINABALU: Shangri-La's Rasa Ria Resort and Spa and Shangri-La's Tanjung
Aru Resort and Spa donated learning tools to the Tuaran Community Rehabilitation Centre, recently.
Fiona Hagan, general manager of Rasa Ria Resort who represented both establishments said the donation was made possible from the fourth "Ride for Autism" held in April this year.
At that time, one hundred and seventy two riders took part to show their support for the
Tuaran Community Rehabilitation Centre educational programme.
The event, supported by the Mayor of Kota Kinabalu Datuk Yeo Boon Hai, started from Rasa Ria Resort and finished at Tanjung Aru Resort.
"We wish to thank all the riders and sponsors for supporting the centre's educational programme which focused on educating individuals with autism and other
disabilities in basic life and communication skills, socialization, recreation and leisure
activities," Fiona said.
"The learning tools and toys are perfect for calming, encouraging social skills, and
fostering sensory and language development in young children with autism. It is critical inearly intervention programs where all the right toys can make all the difference. Our
teachers use them to develop fine motor, gross motor or social skills."
"The sensory toys are just plain fun! The best toys and activities for children with autism spectrum disorder are the ones that motivate our kids to engage," Datin Alice Tee, Vice
Chairman of the Tuaran Community Rehabilitation Centre, stated.-pr/BNN