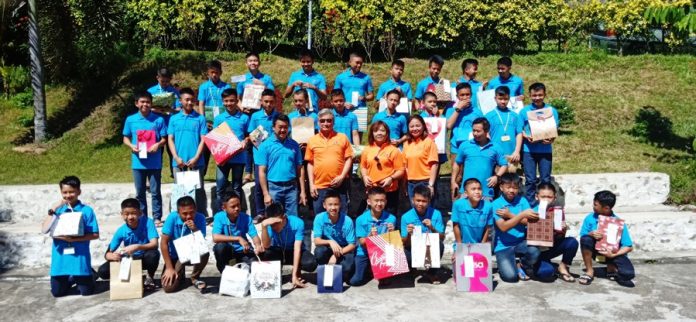 San Damiano Boys Hostel in Kiulu, Tamparuli was abuzz with anticipation recently where the hostel boys waited for the arrival of a team from Klagan Regency 1Borneo.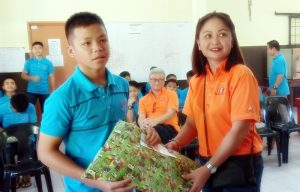 The team from the hotel who were there to deliver gifts they have collected in December last year arrived to their warm greetings and welcoming smiles.
To collect the gifts, the hotel had set up a Christmas tree at their hotel lobby and hung the names of 42 hostel boys on it. They then encouraged guests and staff to pick a name and wrap a present for the intended. The respond to the programme was tremendously encouraging.
During the recent visit to the hostel, the hotel team delivered the gifts to all recipients; leaving gifts with the guardians for those who were not able to attend due to circumstances. They also delivered donations to the hostel that included bags of rice and other foodstuff as well as drinks donated by Fraser and Neave. Recycled bed sheets were also presented to the establishment.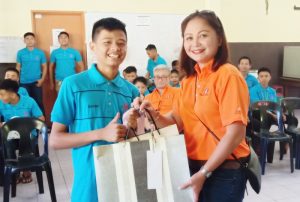 The recipients and their guardians showed their appreciation with songs and dance performances.
During the event, Klagan Regency 1Borneo General Manager  Yeow Hock Siew wished all the boys the best and encouraged them to work hard to achieve their goals in life.
He also said they would keep on assisting the establishment to the best of their abilities.
The programme was one of  the hotel's Social Corporate Responsibilities (CSR) which was to give to the less fortunate during the festive season.
"This ensures that they will feel the joy and happiness of the occasion just like their other luckier counterparts in the State,"Marketing Communications Manager Stella Moluntang had stated.
During the visit to San Damiano, Klagan Regency Hotel Ambassador Stanley Missun gave  a motivation talk to the boys.
The Klagan Regency Hotel is a four-star hotel located just besides the 1Borneo Hypermall. This establishment located 15 minutes from Kota Kinabalu City, the State Capital of Sabah boasts 269 rooms and suites with five room categories to choose from.
Guests can choose among the five mainly, standard rooms, superior rooms, deluxe rooms, executive rooms and the presidential suites. They are all well furnished, spacious and neat with a welcoming atmosphere.
More information can be acquired from 088 529 888.-ce/BNN