Sunsets symbolises hope, life and expectations. Some people believe that even as the sun sets, it gives forth a glorious beauty with hope of another day. Others think of it like age and the sincere beauty seen in one beyond the physical. There are also those who think of it as a peak to a day of expectation or as in life. It depends on the individual perception of course.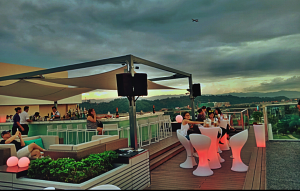 Seen from Sutera Harbour's Horizons Sky Bar and Cigar Lounge the sunset is all those and just one of the most breathtaking sights one can ever hope to see in one's life. The mix of colours lighting up the horizon are just so brilliantly diverse that one can only admire it with the almighty creator in mind.
The Horizons Sky Bar and Cigar Lounge is one of the hotel's newest addition in the food and beverage department. Sited at the rooftop, this outlet comes alive at sunset, which is anytime from 5pm onward. The blazing sunset usually occurs at 5.45pm to 6.30pm and then the sky will slowly turn dark. There are of course lights from the city and the occasional plane that flies overhead, but nothing beats the sunset.
Those who wish to dine in the outlet will be able to sample delicious Italian food. They are delicious in its moderate portion but very filling to.
There are two sets of menu to choose from; both sumptuous and will titillate the palate enough to make one a return diner. The mesclun salad with smoked duck breasts is incredibly good and should be followed by the crab meat soup. The mushroom risotto with cheese is nicely filling. As for the mains, the lamb shank with beer and rosemary is good but a personal favourite is the Atlantic cod fish fillet with poached egg and spinach.
To savour all the delectable food served, visit the outlet and indulge in the sumptuous food served. While you are at it, enjoy the blazing sunset, the cool evening air and the cosy ambiance in that rooftop outlet. With good music in the background, this is a place where one goes to at the end of the day after a hard days work and enjoy the end of the day.
For those who wish to get a couple of drinks, this is the best place to be. There is an assortment of drinks at the bar from 7pm onward. It's closed on Monday though.
The Pacific Sutera Hotel is a five star establishment in Kota Kinabalu with 500 well appointed rooms and suites. It is about 20 minutes drive away from the Kota Kinabalu International Airport (KKIA) and 10 minutes drive from the city centre.
Information can be acquired from 088 303 240.-BNN