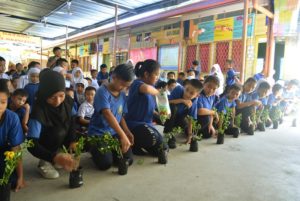 KOTA KINABALU: The Palace Hotel Kota Kinabalu presented two sacks of organic fertiliser SK Puun Tunoh, recently.
The 50 kilograms of Eco Pure Organic Fertiliser was presented to the school as part of the hotel's Corporate Social responsibility (CSR).
The team from the hotel led by its Food and Beverage Director John Malcom handed over the fertilisers to the school represented by its Headmistress Siti Mahani Mohd Aini
Siti Mahani in her welcoming speech thanked The Palace Hotel for presenting them with the organic fertiliser, saying that it would go towards their school landscape and potted plants.
According to her, the school's landscape is extensive with various plants and trees planted around the school building. Potted plants are also used to beautify the school surroundings.
"In this respect, we are grateful that The Palace Hotel has chosen to present us with the organic fertiliser. We hope that they will keep on supporting us not only with organic fertiliser but on related knowledge as well."
"We hope to carry out more activities with the hotel," she said.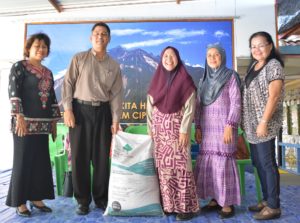 John in his turn gave a talk on the hotel policy as a green hotel and environmental protection as well as conservation through waste management.
"Environmental education will ensure that pupils can identify, understand and become engaged in resolving related environmental issues in future," he said.
Some 250 and teachers of the school attended the talk and presentation.
Meanwhile, the Hotel General Manager Ms Phang Joo See said as a Green Hotel and strong advocate of the 4R policy:  Respect, Reduce, Reuse and Recycle, imparting environmental knowledge on students are one of the hotel's CSR.
"One of the most important works we can do is preparing our students to be good environmental citizens and as such we are reaching out to schools to impart awareness on the importance of conservation," she said.-CE/BNN