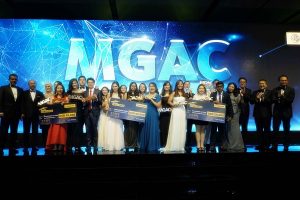 KUALA LUMPUR: After an intense 10-day competition, the Top Winners of the Maybank Go Ahead. Challenge (MGAC) 2017 were revealed at its Gala Dinner, held in Kuala Lumpur, recently.
MGAC is Maybank's award-winning, multi-disciplinary talent acquisition and recruitment programme. In its 6th instalment this year, MGAC remains both an innovative and responsible recruitment platform to spot, build and nurture diverse, global talent.
Loh Rachel from Malaysia was named as the Global Champion of Maybank Go Ahead Challenge 2017. Loh Rachel from HELP University was awarded with a cash prize of USD1,000 and an opportunity to pursue a two-week internship at any Maybank office of his/her choice around the world.
Team Wonderwomen, comprising Finalists from Malaysia, Singapore, Philippines and Indonesia emerged as the Global Champion, and walked away with a cash prize of USD40,000. Team Dark Knight, with Finalists from Sri Lanka, Singapore, Malaysia, Vietnam and Cambodia was named as the 1st runner up winner and won USD20,000 prize money. The 2nd runner-up went to Team Avengers, comprising Finalists from Malaysia, South Korea, Philippines, Ukraine and Thailand who received the prize money of USD10,000.
The ultimate reward for all the Finalists is a conditional offer to join Maybank in its entry-level pipeline programme, the award-winning Global Maybank Apprentice Programme (GMAP). The two-year rotational management trainee programme offers best in-class development, on-the-job training, assigned coaching by Maybank's senior management and the opportunity to undergo international assignments to any Maybank offices in the 20 countries, where Maybank has a presence.
Present at the Gala Dinner were Datuk Abdul Farid Alias, Maybank Group President & Chief Executive Officer; Dato' Wan Amirul Feisal, Maybank Group Chief Financial Officer; Nora Abd Manaf, Maybank Group Chief Human Capital Officer; Dato' Rafique Mohamed Merican, Chief Executive Officer of Maybank Islamic and Group Head of Islamic Banking; Suhail Amar Suresh, Group Chief Technology Officer; Kamaluddin Ahmad, Chief Executive Officer of Maybank Ageas Holdings and Maybank Group Head of Takaful and Insurance. Senior representatives from top universities across Malaysia and other countries were also present at the event.-PRNewswire/BNN