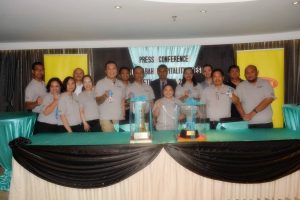 KOTA KINABALU: The 20th Sabah Hospitality Fiesta will be held on the 4th and 5th November 2017.
It is expected to start from 9am to 6pm during the two days event at Grand Merdeka Mall, Bandar Sierra.
Jointly organised by MAH (Malaysian Association of Hotels) and ATIC (Asean Tourism International College) the fiesta is supported by the Ministry of Tourism, Culture and Environment, Sabah.
The main sponsor for the event is Maggie and a total of 25 categories of competitions will be held with five new additional categories.
They are Nescafe Tarik Duo, Engineering Challenge, Team Black Box, Latte Art Challenge and Battle of the Champion.
This year there are 350 participants mainly from the hotels, colleges and individual establishment.
The closing ceremony cum Dinner and Prize Presentation Ceremony will be on the 5th November at Nexus Resort & Spa, Karambunai. RM100 proceeds from tickets sold per table will be channeled to Hope Malaysia for their community project.
The fiesta this year is themed 'My Sabah My Culture' and marks the 20th year in organizing the event.
Additional information can be acquired  from shfsecretariat1996@gmail.com.-pr/BNN