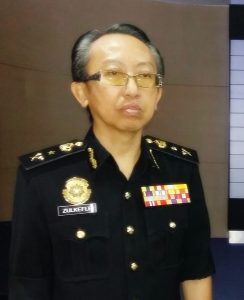 KOTA KINABALU: The Malaysian Anti-Corruption Commission (MACC) has called on the state departments and government-linked companies (GLC) to sign the corruption-free pledge (IBR).
State MACC deputy director Zulkefle Abd Hamid said the signing of the pledge is like a self-defence to the individual from engaging in bribe activities.
"But after signing the pledge, we must walk the talk to prevent corruption because there was a case in Sabah, one week after signing the pledge, he was caught on the take," said Zulkefle.
He said this during the IBR oath taking and signing ceremony by the staff of Ministry of Resource Development and IT in Wisma Bandaraya here on Tuesday.
The ceremony were witnessed by its Minister, Datuk Siringan Gubat and its permanent secretary Datuk Bruno Vun.
Zulkefle said although the IBR campaign will end on Nov 15, but it will still be continued as so far it is only covered the departments' headquarters while it branches have yet to make the pledge.
"We appeal to the departments and GLCs in Sabah who have yet to sign the pledge to do so," he stated.-Moses Wong/BNN