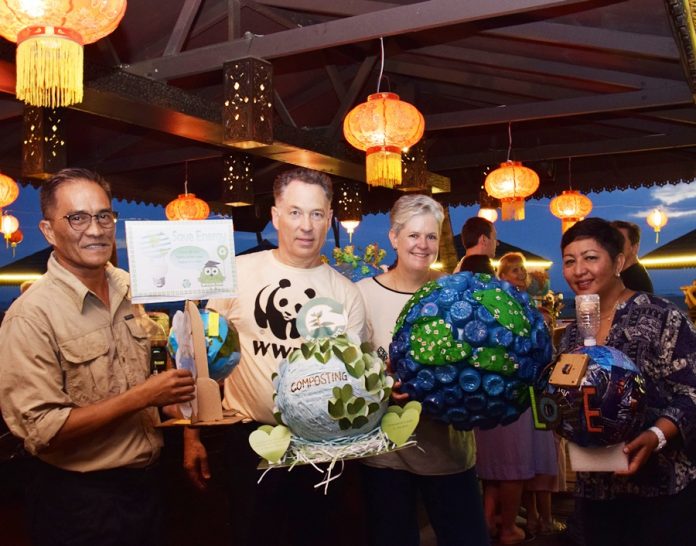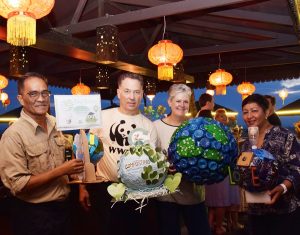 KOTA KINABALU: The Shangri-La's Rasa Ria Resort and Spa turned off its lights to celebrate Earth Hour 2018 from 8.30pm to 9.30pm on Mar 24.
The resort joined millions of people and organizations around the world in switching off energy and lights to observed climate change. They also hosted various Earth Hour activities for staff members and guests with implications of  energy reducing and environmental conservation.
The Dalit Bay Golf and Country Club was also in complete darkness while non-essential lightings at the resort were turned off and dimmed in other public areas and restaurants. As per the resort's tradition, guests were invited to help light the 60+ Earth Hour logo made out of 437 candles using up-cycled cooking oil in recycled glass jars.
Staff members from various departments took part in creating papier mache globes with earth conserving messages.
The evening kicked-off with an energetic and vibrant musical performance by members of the Bamboo Woods Orchestra at the Sampan Bar. All instruments were made from bamboo wood. Most of the Resort guests joined in the Earth Hour night walk along the beach as they learned about marine life that was a part of the special night beach ecology walk.
A special Earth Hour menu was served as well as locally inspired cocktails and mocktails made from herbs harvested from the resort's very own vegetable garden.
The drinks were served in bamboo cups with bamboo straws, as a part of the resort's commitment in removing plastic straws implemented February of this year. A special storytelling session a book called The Dark Secret was held in the garden for adults and children alike. The book tells a story about a family coming together to save the pangolins!
"Earth Hour is one of the ways we show our commitment to energy conservation," said Fiona Hagan, General Manager.
"We have been rolling out various green initiatives and recently. We have removed plastic straws as an initial part of the resort's commitment to go plastic free. Rasa Ria is the first resort worldwide chosen to work in partnership with Plastic Disclosure Project (PDP) which is an online data collection system for plastic footprints. It's an initiative which we were proud to be at the forefront of, and which has been met with great support from our business partners and stakeholders".
Created by World Wildlife Fund (WWF), Earth Hour began in 2007 as a way for individuals and  businesses to show how simple steps can make a significant impact on addressing climate change.
This year Rasa Ria is supporting WWF-Malaysia's Snap-A- Sunset in conjunction with Earth Hour 2018. Hotel guests to take beautiful pictures of the sunset and share it on Instagram. Dr Glyn Davies, WWF Executive Director of Global Programmes and Suzaini Ghani, General Manager of Sabah Tourism Board were also at the Resort to join in the event. Dr Davies is known for his work in global conservation and international development, focusing on wildlife, forestry and biodiversity. While at the resort, he took the opportunity to visit the soon-to- be-opened Rasa Ria Reserve led by Director of Nature, Sail Jamaludin.-pr/BNN