Hari Raya Aidilfitri celebration is an annual affair observed by Muslims all over the world, to mark the end of the fasting month, Ramadhan.
This occasion is a time of celebration where in Malaysia the people hold 'open house' where they invite their friends and relatives to join in the revelry. At this time everyone is welcomed too walk in and greet the hosts and partake of the food, mostly buffet style.
Rich or poor, friends or foe, all are welcomed as this is the time of caring, sharing and forgiving. It is also one of the main conduit for enhancing friendship and solidarity as well as tolerance and understanding among the people. It is a time of visits and joyful gathering by celebrants and their guests.
Hari Raya open house is unique to Malaysia and in Sabah where religious tolerance and understanding is a culture, Hari Raya is a celebration where everybody seems to celebrate together without any reservation.
This year the Head of State Tun Juhar Mahiruddin held an open house on the second day of Hari Raya. The Chief Minister Datuk Shafie Apdal attended the event with his cabinet ministers.
Elsewhere other celebrants held similar open houses. Japiril Suhaimin, a community leader as well as the candidate for Solidariti during the recent election, held an open house on the first day at his establishment, Kundasang Guestshouse.
Friends and family came by to visit and celebrate the auspicious occasion with him during his open house which was held until 10pm that day. He also held a similar event at his family residence at Kg Dampisung, Kundasang on the third day of Hari Raya.
Datuk Karim Bujang, the former Bongawan State Assemblyman and a recent Warisan Candidate for Kimanis also held an open house during the third day of Hari Raya. His house in Putatan saw a steady stream of visitors from 10am until late in the evening.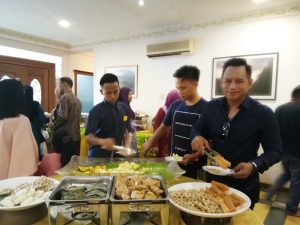 He was seen mingling with his guests, inviting them to partake of the food and drinks available in the dining room.
In Sabah, open house will be carried out by celebrants until the end of Syawal.-ce/BNN