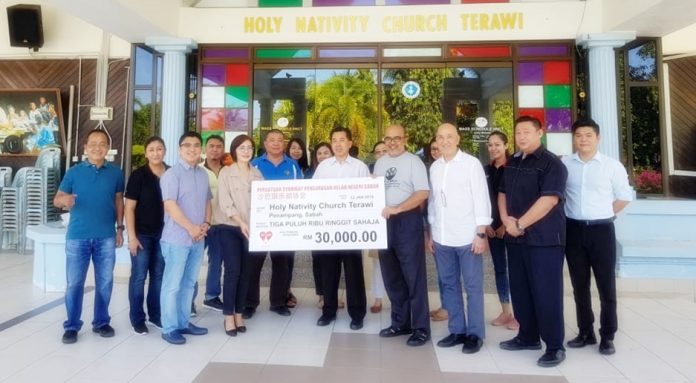 PENAMPANG : Persatuan Syarikat Pengurusan Kelab Negeri Sabah (PSPKNS) donated RM30,000.00 to Holy Nativity Church Terawi to go towards the construction of a new building.
The new building is a community center to be used as Sunday school, tutor class, youth and children programs and other activities.
The mock cheque presentation was made by Madam Monica Chang on behalf of the
Persatuan Syarikat Pengurusan Kelab Negeri Sabah to Parish Priest  Rev. Rector Fr. Federick Raymond, witnessed by Penampang District Officer  Robert Stidi.
Also present during the mock cheque presentation were Holy Nativity Church Terawi representatives Mr Milford Aldin Draily (Parish Terawi Pastoral Chairman), Mr. Kevin Joibi and  parish committees, while the representatives from PSPKNS were Mr. Mervin Lu, Mr. Kenneth Yapp and Mr. Richard Lim.
Fr. Federick Raymond later thanked PSPKNS for their generous donation, saying they welcomed contributions from other organisations to fund the construction of the new building which cost RM1 million.
The construction of the building had been hampered by lack of funds for the last two years.  The fund raising committee therefore hoped that more generous individuals as well as organisations would contribute to the worthy cause.
Information can be acquired from Milford Aldin Draily at 014 314 0200 or Kevin Joibi at 016 837 7280.-pr/BNN