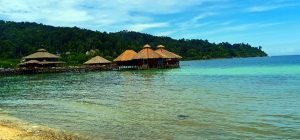 A new and meaningful importance to the words "a day to mark forever" should be accorded to wedding receptions held the Gayana Marine Resort sited at Malohom Bay of Gaya Island. Weddings are significant times of a couple's life. This is a time when they want to be at their best, in their best and at the best venue.  Nothing can be as breathtaking as a wedding ceremony and reception held at this magnificent bay with the soughing wind, the crashing waves and the views of the islands in the blue yonder.
They betrothed should utilize the well-appointed villas available in four categories, mainly Rainforest, Ocean, Palm and Breeze Villa. These villas are absolutely suitable for a couple who wants the best for their wedding. Their guests and friends as well as families will surely enjoy the villas, where their compound is the sea at their doorsteps.
The wedding reception can be held at the Alu-Alu where they serve sumptuous food, but they can also opt to hold it at the Macac. Alu-Alu serves Chinese food while Macac serves western fusion food. Whatever one wants, the friendly staff there can be consulted.
Honeymooners will also find the Gayana Marine Resort an ideal location. The romantic background of this island is apparent. To wake up to the morning breeze, watch the blue Mount Kinabalu in the distance, while being serenaded by the crashing waves and caressed gently by the sea breeze is nothing short of perfect.
There are significant photo opportunities around the resort. The mangrove swamp, the beach, the rocks and even the walkway to each of the villas can look divine in photographs. This can be enhanced with the smile of a blushing bride.  A lot of wedding portraits can be shot there. For the adventurous, they can go for jungle trekking, scuba diving or learn about conservation.
While at the island, couples and their entourage can learn more about the Gayana's conservation efforts.
The resort is supporting the Marine Ecology Research Centre (MERC), to raise awareness on Marine ecosystem and coral regeneration. They help to repair damaged coral reef in the island through replanting. They also help to propagate giant clams, which are getting scarcer around Sabah waters.
All in all newlyweds will not only have a memorable wedding and honeymoon but also learn more about marine life and conservation.
Information can be acquired from 088 380390 . –ce/BNN