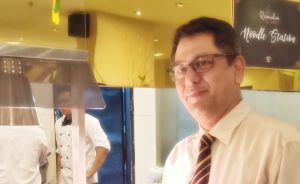 Dining at home with the family is always desired by those who are fasting during the holy month of Ramadan.
Indeed this is one of joy of fasting, to come together in the evening to give thanks for their ability to fast through the day and enjoy the food and family togetherness in the evenings.
However, there are those who wish to take a break from cooking and dine out in a quiet and comfortable restaurant. They want to sample the food in leisure  in a pleasant environment.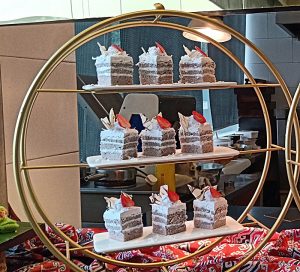 One of the best place to go is The Palace Hotel Kota Kinabalu, sited at Karamunsing; their eatery, Tangerine offer a sumptuous array of food on their Ramadan Buffet table including desserts of cakes and sweets, that will surely meet the cravings of those  who want a delectable and filling evening meal.
To start the dining experience, there are various types of salads to dig into. They include brinjals, okra, mango and squids as well as various types of vegetables. There are also fried banana and yams as well as the all time favourite, satay served at the stations on the restaurant balcony.
As for the mains, diners will enjoy the roasted lamb, which is so nicely done that its good for seconds. Besides that there are roasted chicken and rice, prawns in batter, meat in soy sauce, fish and vegetables. For desserts there are cakes, ice cream and fruits.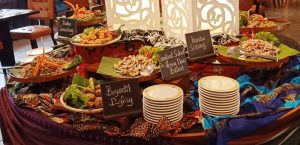 As John Malcolm, the Food and Beverage Director shares, "The number of dishes is not our main concern, it is value for money. You can taste all the food in one visit."
The next visit will be another interesting gastronomic adventure as they do change the items on the buffet table.
The Ramadan buffet which started on May 8 and ends in June 3, cost RM80 per adult and RM40 per child aged six to 12 years old. For those who dine in a group of six, one of them will dine free. This apply to adults only.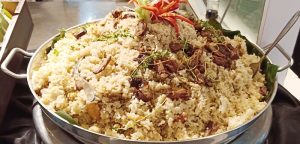 There is ample parking in the vicinity so diners and guests should have no problem with their vehicles.  For booking and more information call 088 217 222.-ce/BNN