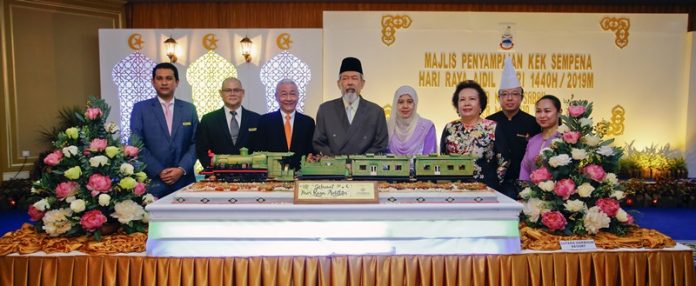 KOTA KINABALU: In conjunction with the Hari Raya celebration, Sutera Harbour Resort  presented a 50-kg Raya cake to Head of State of Sabah His Excellency Tun Datuk Seri Panglima Dr Haji Juhar Bin Datuk Haji Mahiruddin and His consort YABhg Toh Puan Datin Seri Panglima Dr Hajah Norlidah Binti Tan Sri Datuk R.M. Jasni.
Deputy Chief Executive Officer, Mr Gerard Tan led a team from the Resort to present the cake to the head of state at the Istana.
About the cake, Chef Pritchard Ligadu said it took him and two other chefs a week to create this masterpiece;  the Chocolate Kondima cake. Themed 'Balik Kampung' the beautiful cake showcases Sutera Harbour Resort's famed vintage locomotive, the North Borneo Railway.
The train was chosen this year because train was and has always been one of the vital means of transportation in Sabah, bringing villagers to town in the olden days and carrying urbanites to balik kampung during the holidays such as  the Hari Raya celebrations even in this modern age.
"Balik Kampung is synonymous with festive celebrations and the locomotive train is a historical asset not just for Sutera Harbour Resort but also to the people of Sabah. Nothing is important or beautiful than celebrating such events with your family," he said.
Ligadu, 52, who hails from Kampung Tuavon Penampang, who has worked at The Magellan Sutera Resort for more than four years, has a history of making lavish and intricate cakes.-pr/BNN