EDNA HOMESTAY is sited in a beautiful area of Kg Melangkap Kota Belud. The homestay is one of the most beautiful place to stay in, due to its strategic location. The three-storey house is right in a spot where waking up in the morning is an invigorating experience. If your bed room is in the right position, you will see Mount Kinabalu, in its full glory at dawn.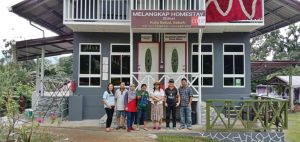 Spokesperson for the homestay, Petrus Sualan shares that they have three units of single houses, newly renovated to ensure full comfort for their guests.
Guests have choices in this homestay. They can stay in any of the to offer more choices and comfort with four rooms in each floor. They can also choose the dormitory where eight people can fit in very comfortably.
The rental fee per floor is RM540 for the ground level (four rooms) with attached kitchen and refrigerator, the first and second floors with three standard rooms and one VIP room is RM600.
"Visitors can rent the whole house for RM1,400 and save RM200. Many groups have stayed with us as we can accommodate up to 50 people including those who bed down in the living room. We do provide them with extra mattresses," he shares.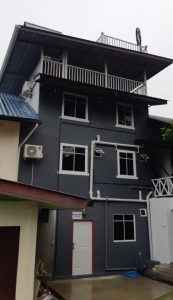 Breakfast and dinner are provided unless told otherwise. He says they are working with a caterer from Kota Belud township for halal menu.
Not that it is confined to these foods, as they also offer Asian fusion food. In fact one can also request for local traditional food but they must be informed in advance.
"Not everyone likes traditional food," he quips adding that although he likes to promote such food as one of their packages but he also serves guests according to their desires.
Those who come to stay in his homestay usually go around to explore the surrounding villages, ride his ATV (all terrain vehicle) or go fishing. Most enjoy photography due to the scenic surrounding. The sky, the river, the forests and the mountains are good backdrops for photographs, especially selfies.
Most of his guests are domestic, he shares, adding that they come from Lahad Datu, Tawau and Limbang (Sarawak) as well as Peninsula Malaysia, among others.
Petrus shares that sometimes Edna homestay may get full occupancy but he does not really worry much about it as his sisters in law are running homestays too and he just check in his guests at their homestay. Later the guests can gather in a common hall.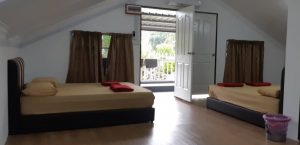 "Though they are staying in different house, they can always gather at the open hall here for buffet style breakfast or dinner," he says adding that the hall can accommodate up to 120 people," he said. Nearby his homestay is Liza homestay with 10 rooms, Eva Homestay has three rooms whilst his father-in-law has four rooms. His guests are mostly church group. Juliet homestay has 10 rooms and will be adding another three more whilst Larraine Homestay has seven rooms.
Petrus says business has been good and attribute it to the good road condition in that area. He expresses his hopes that it will keep on getting better due to eco-tourism awareness and promotions.
To meet the rising demands, he is planning to develop more rooms along the riverbanks, where two units of air-conditioned houses with attached bathroom will be constructed.
Petrus is also the chairman of Melangkap Kota Belud Tourism and Accommodation Association which boasts 47 homestay operators with 22 active members. There are nine ecotourism-based operators and 13 homestay operators, providing a total of 200 rooms.
They are promoting Culture, Adventure and Nature (CAN). Culture includes   Dusun traditional dance, music and farming to entertain visitors. The traditional dance is usually performed to welcome guests or before the start of a function upon request from the visitors coming here to experience the rural Lifestyle.
A is for adventure seekers who wants to test their endurance by trekking up Kapa, Noriou, Tiong and Sayat Baru or even Mount Melangkap which can be quite a challenge.
Another site that they had just discovered and cleared is the Gunung Parang Melangkap or Mount Machete. He says that it looks like a machete is seen from the foot of Mt Kinabalu. N is for nature where guests can learn about medicinal plants along the trail, he says.
Whatever they have to offer, I believe the best thing is still waking up in the morning to the majestic Mt. Kinabalu in the distance and taking a walk along the village road afterwards.
Information can be acquired from Petrus at 014 650 1940.-BNN