In 2015, a group of childhood friends in Kampung Bambangan Inanam came together to plan a small gathering for one of their friends who lived overseas. They formed a group called YCB abbreviation for Yamcha Childhood Buddies, which was apt for the function they wanted to carry out at that time.
Now five years afterwards this group is a force to reckon with, as its members which initially started at seven people had grown to 113, and had carried out various charitable works, such as collecting funds for the deceased, mostly relatives and friends of members. They had collected and contributed monetary condolences to ten occasions thus far.
They also assist the less fortunate members of the community in Kg Bambangan Inanam and had organised various functions including a harvest festival celebration at the village level. Besides that, the members contributed to community events with items for lucky draws among others. They donated water and other necessities to those affected during the earthquake in Ranau, clothes to the fire victims in Kudat, furnishing for St' Catherine's kindergarten while some members visited the sick to accord them solace and encouragement. One of the members had written a book entitled Strange Magic and Supernatural Encounters on the beliefs and superstitions of the Kadazandusun people of Borneo and commemorated her appreciation to YCB in her book. The group is now a force in its own in its community.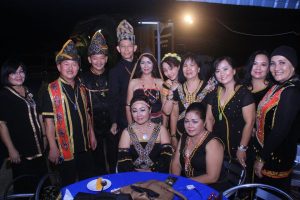 Its founder or the person who initiated this group is Doreen Chin, whose parents originated from the village. She formed it in 2015 as ease of communication with childhood friends so they could discuss where to meet and hang out. It was particularly for a childhood friend who flew in from the United States to visit her family.
"This friend is well liked by our other common friends and they too wished to join in the group and to be kept abreast on details of event. At that time there were only six or seven of us. There were suggestions by this group of friends to invite other friends to meet up," she shares.
The first group gathering was held in 2015 at a hall where members of the group attended with their special guest at that time. It was a blast and it seemed they never let up as besides all their charitable works, they also joined in celebrations of their members and friends' children's weddings, engagements and their own themed gatherings several times a year.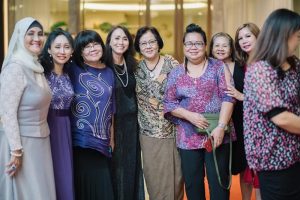 One of the earliest members is Anthony Lim-Makinjal who used to live with another member Charles DaimSazo, in Kg Bambangan in his teenage years. He had a chat with Doreen and they discussed about creating the group.
He attended the first gathering of the group in a club in 2015 and subsequent social gatherings by the group. He believes that YCB's best point is the togetherness shown through good and hard time by members.
Charles DaimSazo shares that he came across a photograph in one of his family albums and took a screenshot of it and posted it to Doreen Chin. She was a childhood neighbour growing up and going to the same school and class. Others in the photograph were also sent the same photograph and Doreen then hatched the idea of forming a group known as Yamcha Childhood Buddies.
"I agreed with her. We were all childhood friends from our village, Kg Bambangan and we all went to the same school, St. Catherine Primary School.  The close rapport among members whether near or far or from those who have moved to other districts or states is commendable," he says adding that this group should be continued and administrated by the next generation which means the next crop of members should comprise children of the present members.
He also believes that it would be advantageous if YCB is registered officially and legally, adding that a committee should be formed with proper resolution drawn up for submission to the Registrar of Societies.
Josephine Chin or better known as Epeen is one of the most active members of the group, which comprised siblings, childhood friends and schoolmates as well as relatives. Being a sibling to the initiator she also pulled her weight to ensure that everything went well and smoothly with all the functions held. She was pulled in initially to the group without her prior consent but soon began to enjoy the events organised by the group.
She has been friends with ten or so members of the group since her childhood days so she had no problem having fun with them even in the adult years. She believes that the activities they had carried through was refreshing and made her feel youthful.
"My favourite part of the group is being able to give a little help here and there among the circle of buddies here in the group. Dressing up for every reunion, that is my top favourite. My hope is that all members will join the condolences contribution in the event of a death, be ready to help other members anytime and of course all members are encouraged to join in the reunion and adhere to its dress code," she opines.
On adding new members, she believes new members must be committed to the group's custom of helping people in need besides all other fun social activities.
Normala Lim, Doreen and Epeen's cousin was added in by the initiator and she thought it was a good opportunity to meet old friends. She attended primary school with some of the members. She likes all the activities held and especially enjoyed the gift exchange and lucky draws.
Stanley Chew another childhood friend who was added into the group was very happy with that development as he had missed his childhood friends. He was very happy chatting about old times and reading the stories that each person contributed in the group during its formative days.
The gatherings were memorable for him as he had not seen his buddies for a long time and he believes that the group would be around for a long time to come and expressed his hopes that members and posters would be mindful of sensitive issues.
As for Theresa Barik, joining the group was enjoyable and she was very happy to be part of the group. She believes that the togetherness and solidarity shown by group members are commendable and would allow the group to grow and be around for a long time to come.
She hopes that members would not be too stuck on double posting and other sensitive issues in their group posts and would focus on informative materials that's beneficial to all concerned.
Jeffery Pinsin opines that the group will continue to grow in the years to come that. Added by the initiator, he enjoys getting to understand each participant's character and of course the jokes and posts shared by all.
He expresses his hopes that more meaningful activities beneficial to everyone in the group would be organised and that members would be "more tolerant and understanding in our chats. Everyone is different. Appreciating each other will make a world of difference in fostering closer relationships."
His sibling Justina Pinsin likes the spirit of solidarity, allowing everyone to stick together in times of sadness and joy.
"The group is great and should be like a family instead of being mere buddies. There are still other childhood friends who haven't joined in. Besides partying, we carry out collection of donations for our buddies and their family members during bereavements. So, this is one of the many benefits of becoming a YCB member."
Most members agree with these opinions and as YCB grows and become an entity of substance, it is hoped that in future it would play a bigger role in the community as well as be a decision influencer. -BNN