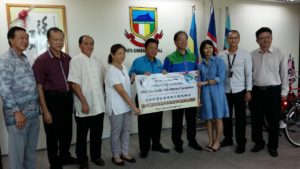 KOTA KINABALU: Some 500 local and foreign taiji practitioners  are expected to participate in the 2017 Asia Pacific Taiji/Wushu Convention on November 17-19, this year.
The event, organised by Funei Li Style Taiji Association of Kota Kinabalu, Sabah is aimed to promote sports tourism in Sabah, said its president-cum- organiser Dato' Seri Winston Liaw.
"The foreign delegates who are expected to come here are from China, Macao, Hong Kong, Australia, Singapore and Peninsular Malaysia," said Liaw during a courtesy call on City Hall's Mayor Datuk Yeo Boon Hai at his office here recently.
The Mayor was invited to officiate at the launch of the convention's promotional event on June 6, at Ming Garden Hotel and Residences near here.
The programme will feature Master Li Zheng, the fifth generation to inherit Yang style and the sixth generation of Funei Taiji, said Liaw.
According to him, Master Li Zheng who is also their master will be coming together with senior sisters Chen Xiao Poh from Wuhan and Lu Ye Fung from Guangzhou.
He said Master Li Zheng has encouraged them to organise the convention as before this, he had organised the Grand Taiji Performance & Showcase in Guangzhou on November 11 to December 3, last year and the participants who attended that event are looking forward to come to Sabah.
And Liaw is inviting the public to come and watch the convention as it will also highlight some martial arts demonstration from other styles.
"The public should not miss this event as Funei Taiji was once only allowed to be practised by the royals in the palace during the olden days," said Liaw.
It was only opened to the public after the end of the Chin's emperor dynasty, he added.
The Funei Taiji that has been promoted today is also came from the same stem of the Yang style founded by Yang Luchan before being popularised by his grandson Yang Chengfu.-MWONG/BNN