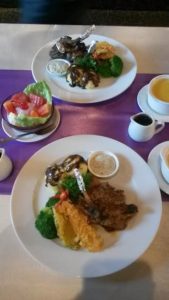 Runway Café at Tanjung Aru, Kota Kinabalu is all set for special days in May to June, where their menu is concerned. It announced the creation of new dishes to be served for three occasions, yesterday, mainly for Mother's Day, the Harvest Festival and Ramadhan.
For the Mother's Day Promotion, diners can expect sumptuous meals on May 13 and 14 in conjunction with the special day. If they want to treat their loved ones at that time they can order the Grilled lamb Rack or Grilled Chicken both of which are absolutely delectable.
The meal is actually a nice treat for celebrants during this heartwarming occasion.
For those who wish to dine on something traditional in a quiet cosy ambiance during the Harvest Festival Celebration, they should step into this café and ask for the Kaamatan Set Promotion.  The set comprises of dishes Pinsakan Basungan (dry boiled fish) Pakis Belacan (young fern leaves with prawn chili paste) Nonsom bambangan (pickled Mangifera) nonsom tuhau (pickled wild ginger) hinava (lime fish) and sup manuk lihing (drunken chicken).
The drunken chicken is sumptuous.
These offerings will be available from May 20 to June 1. Celebrants should invite their overseas guests to try the local fare here as it will allow them to try out the true taste of the people.
Ramadhan or the fasting month is just around the corner. It seems Runway is quite ready for guests for that time as they have already decided on what to serve for the month long occasion.
From May 27 to June 26 onward, they will be offering a choice of two rice sets for those who want to break their fast there. One is the Ayam berempah with Nyonya Sauce (Spicy chicken with Nonya Sauce) and the other is Ikan Tenggiri Goreng special (Special Fried Mackerel).
There are of course many other dishes available ala carte in the café. A personal favourite is the duck, cooked so well that one can't help but think of return visits.  There are many others, just grab the menu and browse through the offerings.
The plus about dining in this café is its ambiance. It is cosy and furnished well, with  good comfortable layout for its dining tables. There is space in between tables which is good as one does not risk being jostled by a neighbour diner just as one is forking up noodles for instance.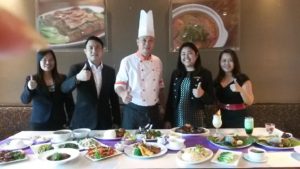 One of the main contentions of diners is overcrowding where dining neighbours will brush against another as they pass by. It can be very annoying indeed.
This café is open from 8am to 12 midnight daily and can accommodate up to 100 people at any one time. They cater to private functions too. Just call them for more info at 088-219084.-CE/BNN