KOTA KINABALU: SMK Taman Tun Fuad Kota Kinabalu received six sacks of organic fertiliser from The Palace Hotel Kota Kinabalu, recently.
The 150 kilograms of Eco Pure Organic Fertiliser was presented to the school as part of the hotel's Corporate Social responsibility (CSR).
The team from the hotel led by its Food and Beverage Director John Malcom handed over the fertilisers to the school represented by its Senior Administrative Assistant Shofriza  Washlaini Muhd Iyen.
Shofriza Washlaini in her welcoming speech thanked the Palace for presenting them with the organic fertiliser, saying that it would go towards their school garden called Sustainable Garden.
According to her, the school's nature club is very active so the organic fertilisers will go a long way in their gardening activities, as part of their school curriculum, where they learn about the importance of environmental protection.
"We hope to garner more knowledge about organic fertilisers and its advantages through interactions with the knowledgeable team. We hope to carry out more activities with the hotel," she said.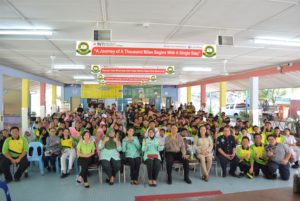 John in his turn gave a talk on the hotel policy as a green hotel and environmental protection as well as conservation through waste management.
"Environmental education will ensure that students can identify, understand and become engaged in resolving related environmental issues in future," he said.
Some 200 students and teachers of the school attended the talk and presentation.
Meanwhile, the Hotel General Manager Ms Phang Joo See said as a Green Hotel and strong advocate of the 4R policy:  Respect, Reduce, Reuse and Recycle, imparting environmental knowledge on students are one of the hotel's CSR.
"One of the most important works we can do is preparing our students to be good environmental citizens and as such we are reaching out to schools to impart awareness on the importance of conservation," she said.
She expressed her hope the contribution of organic fertilisers will instill awareness on the importance of practicing the 4R policy in school in their everyday life.-CE/BNN