KOTA KINABALU: The Palace Hotel Kota Kinabalu presented three sacks of Eco Pure Organic Fertiliser  to SK Buit Hill, Putatan as part of their Corporate Social responsibility (CSR), recently.
The team from the hotel led by its Food and Beverage Director John Malcom presented the 75 kilograms of fertiliser   to the school represented by its principal Awang Lai.
Awang in his speech thanked the Palace for presenting them with the fertiliser, saying that it would go towards their vegetable garden and landscape area.
According to him, the school's nature club called Kelab Serasi will utilise the fertilisers in their gardening activities which was a part of understanding the importance of environmental protection.
"We hope that we will garner more knowledge about organic fertilisers and its advantages through interactions with the knowledgeable team," he said.
John in his turn gave a brief talk on environmental protection and conservation through  waste management.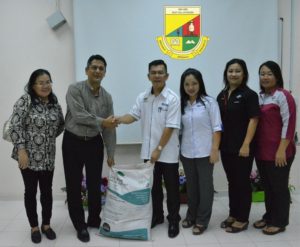 "Instilling this awareness on school children is important as being leaders of tomorrow, they need to be aware and respectful of the environment so that they avoid pollution through littering."
Meanwhile, the Hotel General Manager Ms Phang Joo See said  their CSR activities included reaching out to schools to impart awareness on the importance of conservation through  the 4R policy:  Respect, Reduce, Reuse and Recycle.
She said as a Green Hotel, they advocate the 4R policy and promote healthy food consumption through purchases of chemical-free vegetables.
"We hope that the contribution will enable the school to not only implement the use of organic fertilisers but also inculcate the 4R policy as a culture among the pupils."-CE/BNN