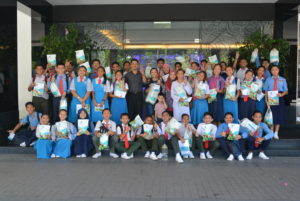 KOTA KINABALU: Thirty six students from SMK St. John Beaufort, visited The Palace Hotel to know more about its green practices, recently.
The students who were members of the School Science and Mathematics Club visited the hotel to garner more knowledge on its  policy as a green hotel.
During the event, the students and their three accompanying teachers were accorded a talk on the hotel green policy and practices by the Food and Beverage Director, John Malcom.
He said such information will ensure an environmentally literate generation and problem solvers among future decision-makers.
The group was later given an insight on a hotel room and a tour of the herbs and vegetable Garden.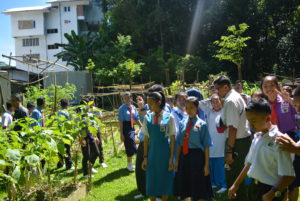 Sherry Yanjurus, advisor of the school club thanked the hotel team for allowing them to visit and tour the establishment.
"We came to know about the hotel green policy through St John School, Tuaran which evoked our interest in visiting the hotel. We are most impressed," she said.
Meanwhile, the Hotel General Manager Ms Phang Joo See said as a Green Hotel, they welcomed students and advocates of environmental conservation to visit the hotel to learn more about their Green practices.
She said part of the hotel Corporate Social Responsibilities (CSR) is to reach out to schools to impart awareness on the importance of conservation through the 4R policy:  Respect, Reduce, Reuse and Recycle.
"We hope that the knowledge gained from the visit will be shared by the group with their fellow students and that they will adopt the 4R policy as a culture among them."-CE/BNN