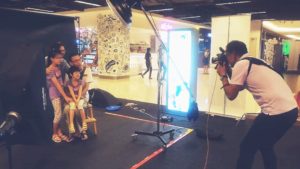 KOTA KINABALU: In conjunction with the Mother's Day celebration on May 13 and 14, photographer Louis Pang will carry out a charity photo shoot at the Imago Basement KK Time Square.
Proceeds from the Photo shoot will go towards the Sabah Society for the Blind (SHFB).
Members of the public are invited to participate in the event by having their photographs taken free of charge but are encouraged to donate generously to the worthy cause.
The event which will be carried out from 11am to 6pm will also feature entertainment by a group from the SHFB who will render a repertoire of music and songs for the public.
Four masseurs from the society will take turn to attend to guests on two stations at that time.
Louis Pang an internationally acclaimed wedding and portrait photographer ranks amongst Asia's top three wedding and portrait photographer.
He has won ten Wedding and Portrait Photographers International (WPPI) awards in the United States between the year 2007-2011 and holds the record of being the only Asian on WPPI winners list for five consecutive years.
Besides being a photographer he is also a speaker and the first Asia-based photographer to speak and judge at Wedding and Portrait Photographers International (WPPI) convention, the world's largest wedding photography conference held annually at Las Vegas, USA.
He has been a featured speaker for Nikon, Asukabook, Epson, Lastolite, Elinchrom and Think Tank Photo.-CE/BNN