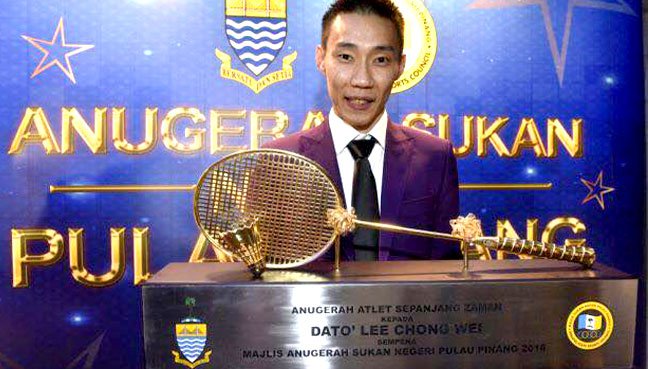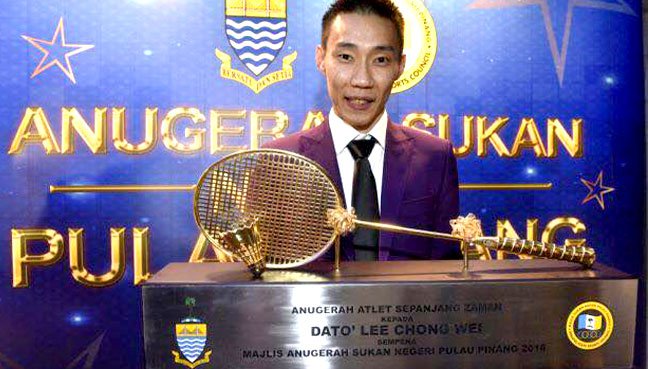 National badminton hero says he cannot promise he will compete in the next Olympics, but adds that he will continue working hard on his career.
GEORGE TOWN: National badminton champion Lee Chong Wei was given the All-Time Athlete Award at the annual Penang Sports Award Presentation here.
Chong Wei, when met by reporters after the ceremony, said he was very humbled by the recognition.
"I am touched. This is the first time I am recognised with the award, which will motivate me to continue moving forward," he said.
The 2016 Rio Olympics silver medalist said the award, which recognised his achievements, would be a catalyst for him to continue his badminton career.
"Nonetheless, I am not promising whether I will or will not compete in the coming Olympics. What I can say is that the award tonight really fired up my spirit to continue working hard in my career. Many factors should be taken into consideration such as age and old injuries may recur," he said.
Chong Wei also expressed the desire to play his last Asian Games in Palembang, Indonesia, and the Commonwealth Games in Gold Coast, Australia, next year.
Chong Wei also won the state 2016 Sportsman of the Year award while national squash queen Nicol Ann David was crowned Penang's 2016 Sportswoman of the Year.
Both received RM3,000 and a trophy each.
Chong Wei was also named winner of the TYT Premier Award for 2016.
2016 Puskas award winner, Mohd Faiz Subri, was also given a special award in recognition of his contribution to football.
However, Mohd Faiz, who won the award with his knuckleball kick, was not present at the ceremony.
Meanwhile karate exponent Cherleen Cheung, and Mohammad Syahir Mohd Rosdi from sepak takraw, were named 2016's Most Promising Sportswoman and Sportsman respectively and took home RM2,000 cash and a trophy each.
Both the 2016 Best Women's Team award and the Best Men's Team award went to the karate team, which won RM2,500 in cash and a trophy respectively. BNN.