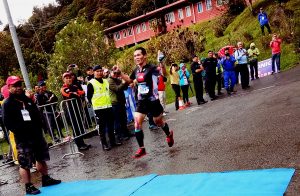 KUNDASANG:  Malaysian mountain runner Safrey Sumping retained his title during yesterday's 30th Mount Kinabalu International Climbathon 2017.
The defending elite men's champion, a  35-year-old mountain guide from Kampung Himbaan, Bundu Tuhan finished  the 21km  race in 2 hours  18 minutes and 28 seconds.
He went home with a RM8,000 cash prize, a head dress (Sigar) and a sash.
The second slot went to newcomer, Lel Kipchirchir, 24, from Kenya who was leading the race during the ascend to the mountain but later fell back to second place, completing the race in 2 hours  20 minutes and 22 seconds. He bagged RM6,000.
The third place went to 2013 champion, Daved Simpat, 35, from Kampung Kiau, Kota Belud who completed the race in two hours 20minutes and 42 seconds. He walked away with RM4000.
Due to adverse weather conditions, the organiser had to cut short race which should have been  4,095.2 metres but  runners turned back at Panalaban   which is 3,262 metres.
In the Elite women category Sandi Menchi Catlona Abahan,27, from  Baguio City, Philippines grabbed first place by finishing the grueling race in 3 hours  4 minutes and  30 seconds.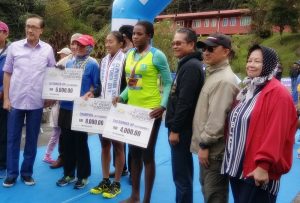 This is her second successive win which earned her the prize money of RM8,000.
The second spot was won by porter Anineh Dainin, 37, from Kampung Himpaan, Kota Belud who completed the race in 3 hours  9 minutes and  33 seconds.  She received RM6,000 cash for her efforts.
The third place went to newcomer Kenyan Valentine Jepkemoi Serem, 27, a full-time runner and three times Myanmar marathon champion. She clocked 3 hours 28 minutes and 7 seconds.  She pocketed RM4,000.
The Climbathon saw participation from 96 men and 20 women, with 83 from Malaysia and 33 from other countries.
The prize giving ceremony was carried out by the Minister of Tourism, Culture and Environment Datuk Seri Panglima Masidi Manjun-BNN