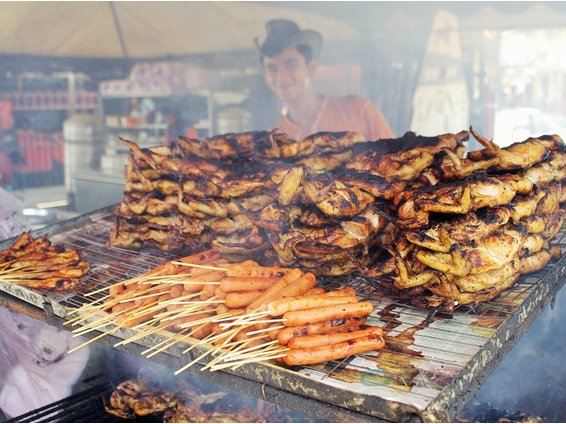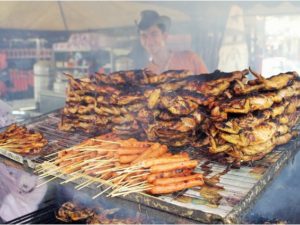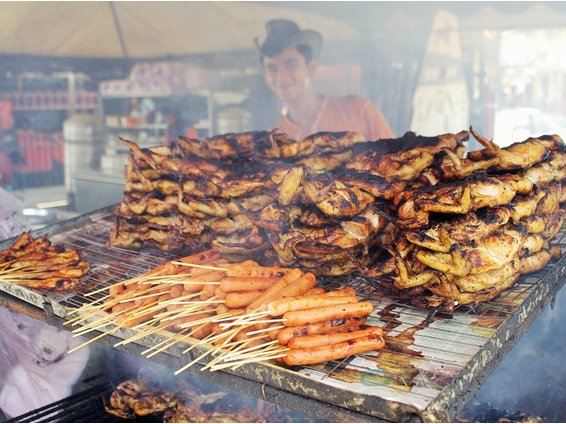 Port Dickson is a quick getaway from the city to a semi-tropical paradise, so it's no wonder the place is popular with locals and tourists alike. There's plenty to do on the beach and in town, but there's also much food to eat! We've hunted down the best dishes you should save your stomach space for on your next trip to this beachside town, just follow our guide and get ready for some grub that will tantalise your tastebuds!
Medan Selera Bandar Port Dickson
The first stop you should make is Port Dickson's Old Pasar Food Court, otherwise formally known as Medan Selera Bandar Port Dickson. There's plenty to eat here for brunch, and a great start to your gastronomic adventure of this seaside town! You can't miss their bright yellow stalls and seating, and you'll find plenty of local old regulars stopping by after their morning walks for some light conversation over a plate of noodles or drinks.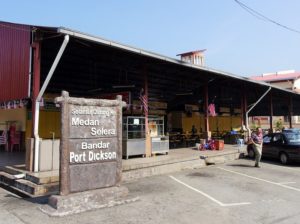 Right smack in the middle of town, this place has all the great brunch food.
The Hainanese chicken rice here was one of the best dishes we had. The portions were small, indeed, but jam-packed with flavours achieved from hours of slaving over the stove. You can taste the love, care, and absolute finesse in this dish of juicy beansprouts, topped with a glistening slab of steamed chicken, then garnished with aromatic minced ginger.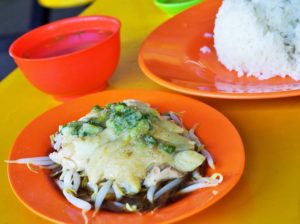 Gotta love that minced ginger.
Another dish you should have at this medan selera is the yee mee. We found the taste surprisingly addictive, a combination of salty flavours with slurp-worthy and tender textures. There's wantan, pork slices, black fungus, leafy greens, and fish cake in this dish alone, which makes for a hearty breakfast to start the day with. The noodles are perfectly cooked, and the soup is not too slimy nor salty.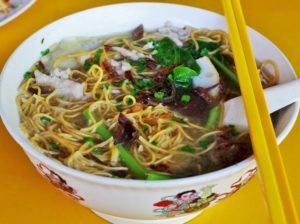 The tender pork slices in this bowl tasted awesome.
The nasi kerabu at this medan selera is a must-try. The garnishing of the different herbs and spices made for a good salty heat that went well with the rice, while the sambal and sauces held the flavours together. The fried chicken was a good choice on our part, with freshly fried battered skin and tender meat, but you could give the fish a skip – the rice and chicken together was a satisfying meal on its own.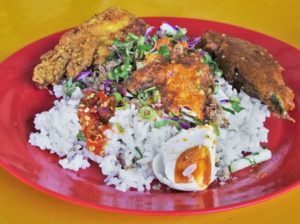 A great choice if you like a little spice.
For drinks, the nice old uncle at the back of the food court offers all sort of regular mamak drinks, including this lovely teh Tarik served old school-style with a cap on top. The tea had the perfect mix of everything – not too sweet nor too strong, and was a popular choice with the regular customers.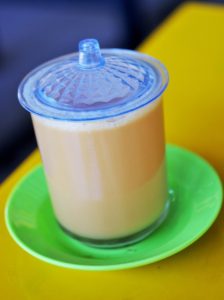 Complete with an old school plastic cap.