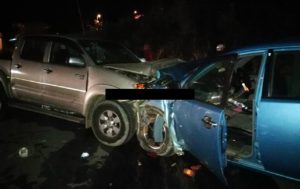 KUDAT: A man was killed while two persons suffered serious injuries in a two-vehicle accident at Km 7 Kudat-Kota Kinabalu road here on Friday night.
Kudat police chief Superintendent Douglas Nyeging Taong disclosed yesterday that the deceased had been identified as Silval Gunting, aged 66, who was driving a Mitsubishi Triton double-cab vehicle from Kampung Kandawayon near here.
He said Sival died at the Kudat Hospital.
The two injured victims were the driver of a Toyota double-cab vehicle, a 44-year-old man from Kampung Sikuati, who suffered internal bleeding, and a 53-year-old passenger of the Mitsubishi Triton double-cab vehicle, who suffered a fractured right hand.
"Both victims were treated at the Queen Elizabeth hospital in Kota Kinabalu and Kudat hospital respectively and their condition has been reported as stable," he said.
Douglas added police received information of the accident at 8.36pm.
The case is being investigated under Section 41 (1) of the Road Transport Act 1987 for reckless driving resulting in an accident. – BP