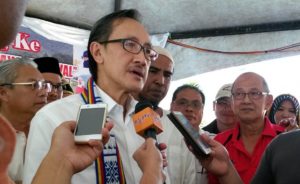 KOTA KINABALU: The Sabah State Government had objected to the tourism tax proposed by the Federal Ministry of Tourism and Culture in 2016, said Sabah Minister of Tourism, Culture and Environment Datuk Masidi Manjun said in a statement.
According to him, they have accordingly informed the relevant authority at the Federal level at that time.
He said the reasons for objecting the proposed tax among others were underlined in a press statement he made and duly reported by the local press on Sept 10.
"The State Government of Sarawak too objected to the proposal which was conveyed to our Chief Minister during Datuk Amar Abang Johari's first visit to KK as Chief Minister," he said adding that both State Governments of Sabah and Sarawak agreed to work together to have common stand on the proposed tourism tax.
Nevertheless the Federal Government proceeded to enact a law known as Tourism Tax Act 2017 to impose levy (tourism tax) on all tourists which was passed by Dewan Rakyat recently.
"The passing of the Act to impose tourism tax has created new dynamics and a new challenge on the part of the State Government. The State Government is going to discuss and decide our stand on the Tourism Tax Act 2017 in the next Cabinet meeting."
The withdrawal of Sarawak's representative from the Board of Directors of Malaysia Tourism Board (MTB) has been wrongly interpreted as opting out of the tourism tax regime. Many suggested Sabah should follow suit, he stated.
"Withdrawal from MTB does not equal to opting out of the provisions of the new Act nor does it amount to rejecting it. MTB does not decide tourism policies or laws relating to tourism. It is the marketing or promotional arm of the Ministry of Tourism and Culture."
Sabah shares the same view with Sarawak that there have been little or no consultations with the State Governments of Sabah and Sarawak prior to the enactment of the law on tourism tax, he said.
"Sabah will continue to work with Sarawak to find common grounds in our engagement with the Federal Government in our endeavor to find fair solutions to the issue." -BNN