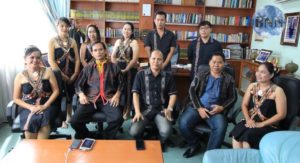 KOTA KINABALU: In conjunction with the State Level Pesta Magahau a Sodop Papak Tavasi or Gala night will be held at the Matunggung Community Hall on July 28.
It will showcase the various aspects of the festival, where traditions meet the contemporary, chairman for this event Datuk Jeffery Ayah said.
According to him, this event will showcase exciting activities as befits the Red carpet Gala Night.
The main attractions will be the appearance of the top three Mitarab Gimpuhut Momogun (MGM) participants of each zone, which means all 21 winners will appear in creative traditional attire, he said.
Their attire and presentations will not score any points to add in the final rounds of MGM, he said adding that subsidiary titles will however be bestowed on the deserving participants.
"The winners of the subsidiary titles will be announced during the same night," Jeffery also known as Cobra, said.
"The top seven finalists of the singing competition or Monurizak will also pit their vocal prowess against one another during that night," he said.
A  Mitarab dot Band (MDB) or Battle of the band will also be held. This will feature unique presentation as Rungus traditional musical instruments such as sundatang, Tontog, urali and others will be combined with modern musical instruments, he said.
Contestants will have to bring their own traditional music, as the organizer will provide the contemporary musical instruments.
Tickets are available the Gala night. They cost RM5000, RM3000, RM2000 and RM1000 per table. Tickets for individuals will also be sold.
Cobra is the speaker for Asian Homestay and patron as well as the Advisor for Sabah Homestay Association. He is also the speaker/trainer (WATH) for the Ministry of Tourism and Culture Malaysia.
Pesta Magahau is organised by the Sabah Momogun Rungus Association (SAMORA) headed by Matunggong State Assemblyman, Dato 'Jelani Hamdan.-BNN