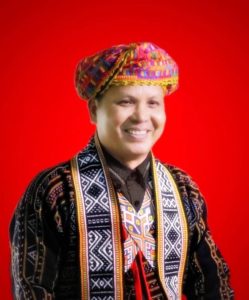 KOTA KINABALU: The Magahau Festival 2017 organised by the Sabah Momogun Rungus Association (SAMORA) is getting more attention due to its unique and distinctive presentation.
It has attracted participation and interest not only among the Rungus community but other communities throughout the State.
This is shown by the participation of seven zones to date, including Kuala Lumpur, SAMORA President who is also the Matunggong State Assemblyman Dato' Jelani Hamdan shared.
According to him, this augers well for the festival as it will enable to gain more prominence in future especially in the international level.
"Gimpuhut champion in addition to receiving a cash prize of RM10,000, scholarships, mobile phones, hampers and will also join the delegation SAMORA and Tourism Malaysia to the International French Travel Market (IFTM) Paris 2017. The total prize for the MGM champions is worth almost RM30 thousand," he said.
With these exposures, the Festival through the MGM winner's participation in international events will be highlighted.
Actually, this exposure started in 2016 where the MGM winner's main prize was a return ticket to the 2016 London World Travel Market (WTM).
On the winner's personal exposure and advantage, he said besides ticket and cash prizes, the top three MGM winners will also receive scholarships sponsored by City University Kuala Lumpur with the priorities being the tourism and hospitality industry.
Jelani said, in addition to MGM other events held in conjunction with the Magahau Festival 2017 are Mitarab Monurizak(3M-singing competition), Hontira (traditional sports), Mitarab Mongigol Sumundai (MMS), Mitarab Longo Kodori (MLK), Mitarab Pinapakan / Magic (MPS), Mitarab dot band / Battle of The band (MDB / BOTB), Mitarab Manabas Sulung Kisurip Momogun/Rungus , Mindahu Mamapak-Adau Papak Tavasi (APT) and Mitarab Kaakanan Kodori (MKK)/Traditional Food Competition.
The Festival will culminate on July 31 at the Puruvan Square, in Matunggong with an expected 10 thousand visitors.-BNN