PITAS: Kg Kobon, in Pitas District an idyllic village where the people live in peace but lack basic amenities may soon enjoy better development. The houses nestled under gigantic trees and lush shrubberies may soon have a glow from their windows at night…lights powered with electricity. There may soon be thunders of vehicles coming into the village periodically, transporting the villagers to town. Of course this will be after the construction of a good road.
These much needed amenities will be accorded to them soon, according to the Minister of Rural Development Ewon Benedict after the villagers plight caught his attention.
Ewon conveyed the good news after travelling the poor road to the village, which he first saw pictures of in the social media recently.
He said the village which was listed in the Ministry of Rural Development (KPLB) 'Prosperous Village Programme' (Program Kampung Sejahtera) would be given due attention by his ministry.
"I know the residents of Kampung Kobon have so much hope that basic amenities such as roads and electricity can be implemented in this village. It is now under KPLB's action, we can implement maintenance and repair of the  road to this village under the Kampung Sejahtera programme," he shared.
"The application for Rural Electricity for this village with 23 other villages in the Pitas district has been submitted to the Federal KPLB and as such this is a commitment by the government. This will be discussed with the central KPLB to see the status of the application, "he said.
Ewon, who is also Kadamaian State Assemblyman, said he would also hold  a discussion with Pitas assemblyman Datuk Bolkiah Ismail and the Pitas District Office to facilitate the implementation of the 6KM rural road upgrade project and electricity supply to Kampung Kobon.
"I will hold further discussions with the Assemblyman and the Pitas District Office as they understand the situation in their area, better. If I make a commitment without formal discussions with them, it may not be appropriate because we need to look at these needs thoroughly, "he said.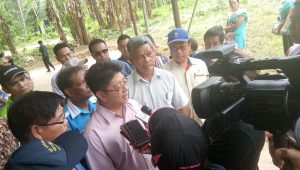 He said the previous leadership in the government had taken note of the problems faced by the villagers and hoped that the problem of basic facilities in the village could be overcome through the government's current commitment and concern.
In this respect, the 400 strong villagers, mostly sustenance farmers can be assured of a better future with access to Pitas town for their needs. They will also have better chances of selling their wares in town and earning a little bit more for their everyday needs.
As Juni Andigang, 35 year old villager shared, with the road, other developments will follow suit such as electricity, treated water, a clinic and other facilities.
"All we want is a good road and electricity as I believe these amenities can contribute to a better life for us," he said.
School children like Adrianna Jupirin, 11, and her village mate, Jeremy, 10, may soon be able to enjoy a ride in a vehicle to school instead of walking and Jeremy's mother Fauziah Indod, 31, can be assured of her children's safety to school.
Modumis Masiau, 53, can then help his fellow villagers better with a four wheel drive vehicle to transport their produce to sell in town.
"I usually go to town twice a month to sell the village produce. But it is hard work. Sometimes when the water is shallow, I have to pull my boat. Its better when its high tide as I can use the boat engine," he shared.
He is very keen to see a road into the village as he can do better with his business if there is transportation.
Sixty six year- old Kalawis Kundihol's dream of a solid house may become a reality and leaking roofs and wobbly floors will be things of the past. Who knows, his wife and children might move back with him.
His present house is no longer fit to dwell in but he has no choice as he has no means of making another one.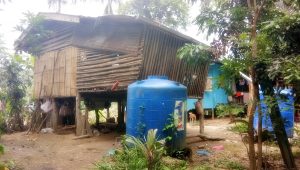 "I have six children. They all live here but four of them are married now and have their own family. Two of my sons are still under my care. Unfortunately one of them is disabled due to a mishap a few years ago. Now he is being cared of by his mother in her parents' house. They can't live with me as my house is in terrible shape," he shared.
This man was born in the village, of parents who were settlers there. He is a sustenance farmer who plants tapioca and bananas. Those are his source of food.  He once planted paddy but they were always destroyed by pests so he gave up.
He stressed that he had applied for a Poverty Eradication Programme House (PPRT) but he has yet to see plank or nail of it, except for a huge water tank donated by some NGO.
With the Minister's assurance, Kg Kobon, an idyll village may soon turn into an ideal village with an all-round development for the people. –ce/BNN