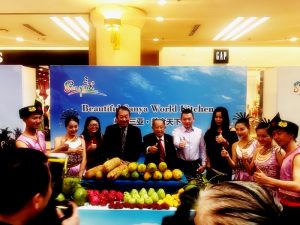 SANYA, CHINA:  China's popular tourist city Sanya launches 2017 Sanya celebration (the "Celebration") in Kuala Lumpur Malaysia, recently, as part of its efforts to introduce Sanya to more international tourists.
Sanya, located on China's Hainan Island and famous for its beautiful beaches, has seen a steady growth of inbound tourists in recent years. In the year 2016 Sanya attracted close to 448,900 inbound tourists, increasing more than 25.31% year-on-year.
"Sanya is a noted tourist resort with natural beauty and a favorable climate. The average temperature is from 22 degrees to 26 degrees Celsius (71F to 78F), which attracts large numbers of visitors from both home and abroad every year," said Deng Zhong, the Honorary President of Sanya People's Association for Friendship with Foreign Countries.
The celebration was held at popular UTAMA shopping center. It included a photo exhibition of Sanya city, a food show, virtual reality (VR) technology-based visual experiences of the local natural scenery and a culture display of the local Li nationality among other attractions.
During the display, a virtual seaside scene with beach, beach umbrella and swim ring were set up on the site, offering visitors a real experience of traveling to the coastal city. In addition, local women of Li nationality showcased their brilliant arts, dance and weaving talents, winning wide applause from the crowds.
"It's fantastic to watch and experience the colorful folk culture of Sanya. Now I can't wait to travel to Sanya and explore by myself," said Gillian Tee Yin Ming, from Malaysia.
Commenting on the tourism preference in Malaysia, Deng Zhong said that although Sanya city is located geographically near Malaysia and the two regions share cultural similarities, there are also quite a number of differences between them.
"Sanya has beautiful seaside and the unique culture of Li and Miao minorities. Also, food there is special and attractive. These all can bring amazing experiences for tourists from Malaysia."
This year, Sanya signed a memorandum with Malaysia's Penang on establishing a friendly city relationship and opened 19 international routes, such as Sanya-Penang-Kuala Lumpur, which laid a solid foundation for exchanges between Sanya and Malaysia.
After the roadshow in Malaysia in July two days ago the Sanya government will continue the global promotion campaign of the "Celebration" to other nations. The next stop is Indonesia on July 27.-PRNewswire/BNN