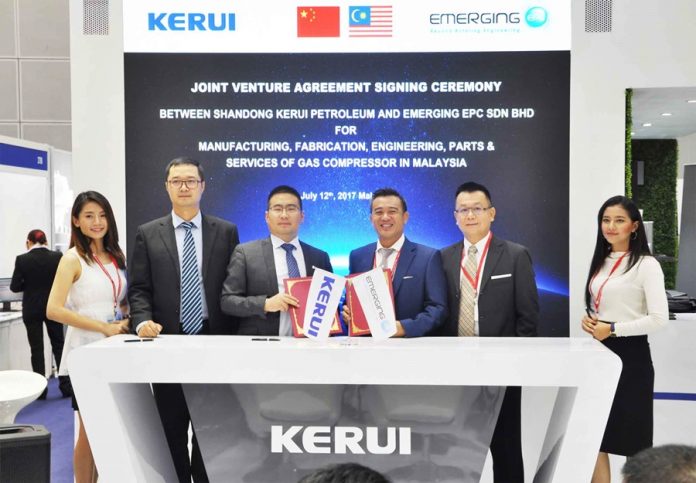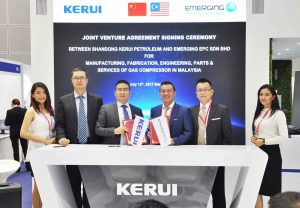 KUALA LUMPUR:  The opening ceremony for the three-day 2017 Oil and Gas Asia (OGA), a key annual exhibition for the energy industry, was held at Kuala Lumpur Convention Centre, recently.
The exhibition spanned 9 halls and played host to 11 international pavilions. Approximately 2,000 companies from 60 countries showcased their products and services at the event.
Kerui Petroleum inked a contract with Malaysian company Emerging EPC Sdn Bhd to form a joint venture in the country.
This was China-based Kerui Petroleum's first visit to the OGA and it proved to be a highly successful one. With PETRONAS CEO Wan Zulkiflee serving as a witness, Kerui Petroleum inked a contract with Malaysian company Emerging EPC Sdn Bhd to form a joint venture in the country.
Datuk Ahmad Zahid bin Hamidi, Deputy Prime Minister of Malaysia, visited Kerui group's exhibition area on the event's opening day, and spoke glowingly of the group's overall strength in equipment manufacturing, technological services, investment and operation.
The General Manager of Kerui Petroleum Asia Pacific Area – Jiang Baohua articulated the group's plans in an interview.
He explained that, in the last few years, Kerui group has accelerated its expansion into overseas markets as well as widened the scope of its products and services. With high-quality products, a good reputation and a comprehensive after-sale services network, the group has observed an ongoing increase in the awareness of the brand. Kerui's Asia Pacific operations have gradually put in place an advanced, comprehensive marketing system and service network spanning over Southeast Asia: established a R&D center in Singapore and owned WEFIC®, a Singapore-based wholly-owned subsidiary specializing in oilfield engineering services; built a service facility in Thailand focusing on parts supply, assembly and maintenance of drilling and exploration equipment; and opened branches in several countries including India, Indonesia and Pakistan, providing customers with convenient and efficient stewardship services.
According to Mr. Jiang, since the firm's entrance into Malaysia in 2015, Kerui Petroleum has been focused on building out their local presence. The establishment of the new joint venture, enabling localization of the assembly of the group's products for the Malaysian market, is anticipated to play an important role in the expansion of the group's business portfolio in the countries targeted by the Chinese government's One Belt One Road initiative, a program to develop trade between China and the countries spread across the Eurasian landmass.
Southeast Asia is not only a focal point of the initiative, but also an important market for Kerui Petroleum. With the group's strong ability in integrating its high-quality resources including products, technologies, human resources, financial leverage and assets in the global oil and gas sector, the group plans to take full advantage of the benefits implicit in the One Belt One Road initiative. These efforts will allow the group to provide more customers with high-quality products and services, and help them to be more successful.-PRNewswire/BNN