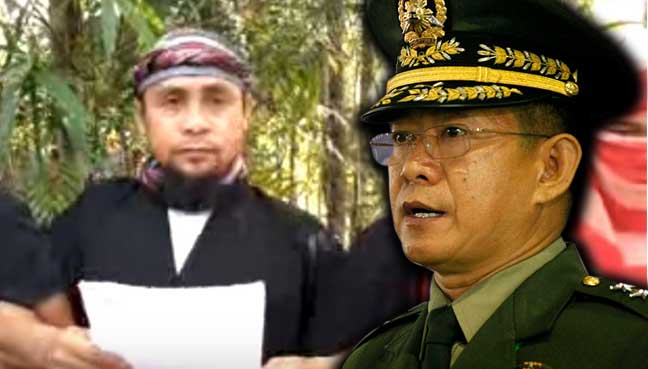 KOTA KINABALU: Abu Sayyaf leader Isnilon Hapilon who is wanted by the Eastern Sabah Security Command (EssCom) has been reported to be trapped inside Marawi City in southern Philippines.
Philippine media have reported its armed forces chief Eduardo Ano as saying that they will not let Isnilon leave the besieged city as troops make final advances to reclaim the last strongholds of the militants.
"He is still inside the main battle area based on our latest intelligence," he was quoted as saying.
"He is considering other options (escaping) but as much as possible, we don't want Hapilon to leave the main battle area alive."
EssCom chief Hazani Ghazali believes Isnilon is the mastermind behind some of the kidnappings and acts of piracy in the waters off the east coast of Sabah.
"We are receiving constant updates from our counterpart in southern Philippines regarding Isnilon Hapilon," Hazani told FMT when contacted today.
"Isnilon is wanted by EssCom for transborder crimes. He is a well-known Abu Sayyaf commander.
"He is the leader of the group which we believe was responsible for several acts of piracy and kidnappings in the east coast of Sabah," he said, adding that he was hopeful Philippine security forces will catch Isnilon soon.
Islamic State's emir in Southeast Asia
It was previously reported that the militant group Islamic State (IS) had declared Isnilon as their emir for Southeast Asia and called for the creation of an IS caliphate in the region.
The Philippine government said Abu Sayyaf and the Maute militant group were jointly responsible for the siege on Marawi city which began on May 23.
The number of militants has reportedly been reduced with Isnilon and Maute group co-founder Omar Maute now said to be leading the resistance in what the military is hoping to be the final standoff.
Omar's militant siblings, including Abdullah, have been reported to be dead.
Abdullah Maute, who is a co-founder of the Maute group, was confirmed as having been killed by Philippine forces, Ano said on Monday.
Ano also reportedly said about 10 foreign militants, mostly Malaysians and Indonesians, are still holed up in small pockets of areas in the Philippines' only Muslim majority city.
Malaysia's anti-terrorism police chief Ayob Khan Mydin Pitchay said the authorities believe the nation's most wanted militant Mahmud Ahmad is still in Marawi city fighting with the militants.
Ano said in June that the university lecturer-turned terrorist was the financier who arranged for a multi-million peso money transfer from IS to fund the attack on Marawi city. -FMT.