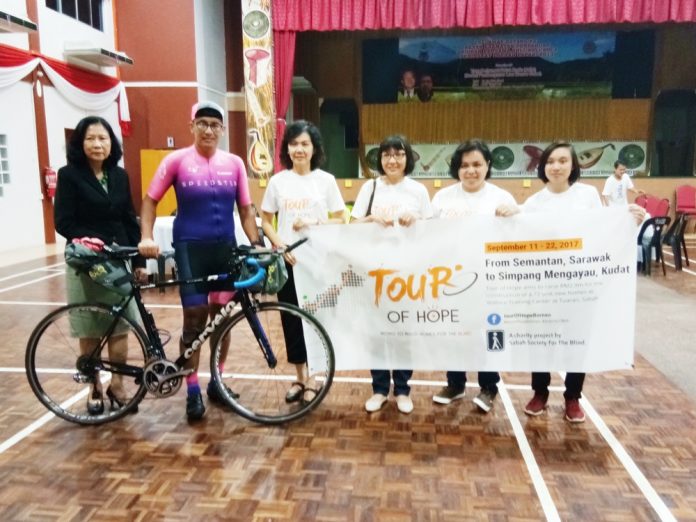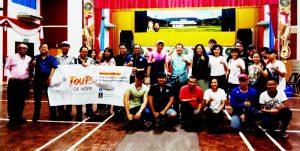 KOTA KINABALU: Cycling enthusiast Louis Pang who rode from Sematan Kuching Sarawak and presently riding towards Simpang Mengayau, Kudat deserves to be recognised by the State Government.
Datuk Johnny Mositun the State Assembly Deputy Speaker said the fact that Pang has been riding for 11 days to reach the 11th stop,  Papar,  the first stop in the State, to raise awareness on the plight of the blind in Sabah is commendable.
He said the cycling journey called the 'Tour of Hope Borneo' is apt as it was for a worthy cause.
This is not an easy feat to go through as Pang had suffered from slip discs a few years ago and the ride must have been very challenging, he said.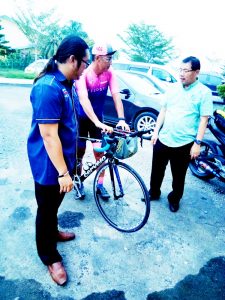 "However, he has cycled through hundreds of kilometres just to raise awareness and funds for the Sabah Society for the Blind," he said to reporters during a reception at Dewan Mositun Papar  for the cyclist, last night, who had just rode in from Lawas.
"This can help the Society in its bid to raise RM2.9 million to build 72 homes for the blind and visually impaired in Sabah," he said adding that the houses will be constructed at their Wallace Training Centre in Tuaran.
For this effort and determination, he deserves to be recognised by the State Government and definitely listed in the Malaysia Book of Records, Mositun who is also the PBS secretary-general said.
He also said that Pang's tenacity is an admirable example for Youth as cycling provides many benefits such as increasing strength and endurance, as well as decreasing body fat.
Meanwhile, Datuk Rosalind Chew President of the Sabah Society for the Blind said she is very touched by the support that has been accorded to Louis Pang throughout his journey through Sarawak and Brunei as well as his first stop in Sabah being Papar.
She said the various establishments and people who had sponsored his accommodations along the way has been generous and gone the extra mile to welcome Pang.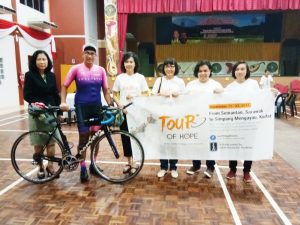 She is thankful for the generous donations channeled to the Society as this can realize their dreams of building the 72 homes for the blind and visually impaired, she shared.
Pang is expected to reach Simpang Mengayau Kudat on Saturday 23 at noon. By then he will have travelled 1615 kilometres for 13 days from the Tip of Southern Borneo to the tip of North Borneo.-pr/BNN