On Sept 11, 2017 Louis Pang set out from Sematan Sarawak on his bicycle towards Kuching. At that point, he said goodbye to familiar faces and raced on the road through Sarawak, towards Sabah. On his way he would stop in 10 places for Sarawak, to rest.  Crossing over to Brunei, on the ninth day, and then to Lawas on the tenth day; it was a surreal experience for him to see the word 'Kota Kinabalu' when he crossed over in Sipitang. Then he was in home ground again. He completed his ride in Simpang Mengayau, Kudat on Sept 23.  This ride is to raise funds to build 72 homes for the blind and visually impaired in Sabah. The homes will be constructed in Wallace Training Centre in Tuaran.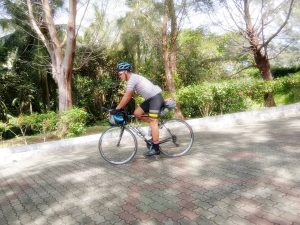 Louis Pang in his own words.
"I thank God for his protection and providence throughout for the 13 days. No punctures, no a scratch on my body, never was my life under threat. I've received nothing but kindness, generosity, and friendship. This is divine goodness.
I also want to thank my wife Jasmine. You are my true North, my strength, closest friend and the love of my life. Many times in the last 13 days, it was the thought of seeing you at the finishing line that kept me going.
Thank you to friends who cheered me on, took care of me when I passed through your city. Your gift of hospitality and friendship lifted me when I was down.
Thirteen days. 1712km. Solo. Sun, rain, wind, dust, potholes, endless waves of hills, hunger, thirst, loneliness, pain. Any one of these could have broken me. I have no super powers. It was one pedal stroke, one breath, one kilometer, one hill, one pit stop, one grunt, one prayer at a time.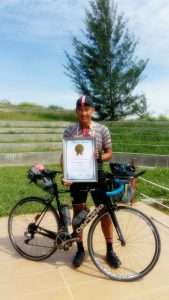 There was a time when strength and determination seemed to have deserted me. Then I started singing a song I learned in church as a teenager. I cried because I knew then God was with me, that I wasn't forgotten.
To be remembered and not forgotten, how important that is to keep us going. Let's not forget the Tour of Hope is not about a guy riding his bicycle, it's about building homes for the blind.
I can't compare my struggles for 13 days to those who struggle their entire lives.
I can do what you can't do. You can do what I can't do. Some of you have great capacities to give. Some of you can persuade others to support this cause.
Let us each do our part to better our community. It's in giving that we receive."-pr/BNN