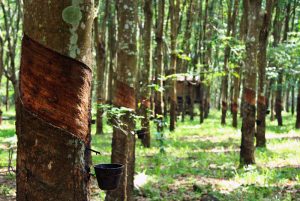 KOTA KINABALU: The Sabah Rubber Industry Board (LIGS) today denied Warisan Sabah's insinuation that LIGS is not assisting smallholders to excel by providing comprehensive assistance to them and the rubber industry.
The Government has assisted 21,594 smallholders in planting 66,060 hectares involving allocation of RM924,840,000 to eradicate poverty and to provide a sustainable source of income since 2010.  These planted areas will come to maturity from year 2018 in phases.   All these planting are implemented, monitored and managed till maturity by LIGS before handing back to the smallholders.  At maturity, the smallholders are provided with cups, hangers, spouts, tapping knives and training free of cost.
LIGS has also established three (3) rubber factories in the State to process and market all smallholders' rubber. These factories are sufficient to cater the processing needs of smallholders.  Warisan Sabah's proposal to have private sector factories will cause shortage of raw materials.  LIGS's factories are not profit oriented unlike the private factories whose objective is to make profit from smallholders.  Private investors who want to put up factories must have 10,000 hectares of rubber plantation. This is to ensure there is sufficient raw materials for their own factories.
With regards to the raw rubber cess, it is a preventive rubber cess to ensure that all raw rubber are processed in the State and not sent to Peninsula Malaysia for processing.  Smallholders do not pay their cess but it is paid by exporters when the raw rubber is taken out of the State.  It is the State policy to ensure primary industries are promoted in the State and to provide employment to Sabahans.
LIGS denied that the Board is using middle man in Singapore to export rubber.  All major tyres manufacturers have procurement offices in Singapore which source natural rubber from Thailand, Indonesia, Vietnam and Malaysia for their manufacturing factories worldwide.  One of LIGS's major buyer is Bridgestone Tyres which source rubber for their manufacturing plants in Mexico, Brazil and South Africa.  Rubber are sold according to the international prices fixed by Malaysian Rubber Exchange.
With regards to the revolving funds, it is to ensure that smallholders are paid at the time of purchase and not on credit terms.  This is to prevent exploitation by unscrupulous rubber dealers.
The rubber prices in Sabah and Peninsula Malaysia are not the same due to the logistics reasons.  To ensure the price of smallholders' rubber in Sabah and Peninsula Malaysia to be the same, foreign ships from importing countries need to come to Kota Kinabalu port on a regular basis. –pr/BNN