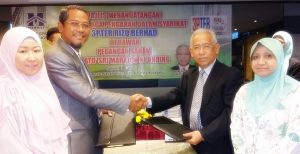 KOTA KINABALU: Marmaz Group Holding, a local based company has appointed five new shareholders to spare head the plans for empowerment and transformation of bumiputera  (3PTEB) programme recently.
They were retired civil servant Datuk Matusin Sunsang; retired police officer Datuk Clement Jaikul; and entrepreneurs Dato' Jimsbon Unding, Hamidi Abd Wahad and Suazlin Sulong.
Before this, Marmaz Group executive chairman Dato' Marajoh Unding was appointed as a board of director and a shareholder in 3PTEB RIZQ Bhd, a company that has been entrusted to manage the Malaysia integration cooperative system programme (Coopmall).
The five newly appointed shareholders signed their letters of agreement with Marajoh at a hotel here to participate in Coopmall.
3PTEB RIZQ Bhd is managed by its president-cum-chief executive officer Haris Fadziah Mat Ali.
Haris said the Coopmall aimed to connect all the 13,247 cooperatives from across Malaysia will be launched this month in Negeri Sembilan.
He said there are some 8 million cooperatives members nationwide and the Coopmall will provide a platform for them to be registered and integrate under one roof to promote their businesses.
At the moment, all the cooperatives doesn't have any cooperation and contact with each other because they are working individually and manually as they don't have the online system, he said.
He said the integration programme that they initiated is in line with the National Blueprint of Cooperative Retail Wholesale 2016-2020.
Marajoh disclosed there are some 700 cooperatives being set up in Sabah of which 95 of them have their own shops.
"The idea of this integration programme is also to boost the buying power of the cooperatives because they already have the existing members and volume," said Marajoh.
"The cooperatives business activities will be strengthened once they have integration and networking because they have a combined assets of RM120 to RM130 billion nationwide," he revealed.
"So when we have the volume, we can bargain with the suppliers to get lower price and get rid of the middlemen who mark up the prices," said Marajoh.
In doing so, we are also helping the people to ease their financial burden and tackle the high cost of living as well as to promote the growth of the gross domestic products.
He said the growth of the cooperative business in Malaysia is still slow as it is only contributed to 3.7 per cent of the national economy when compared to 18 per cent by Vietnam, Singapore (22 per cent) and Indonesia (17 per cent).-Moses Wong/BNN