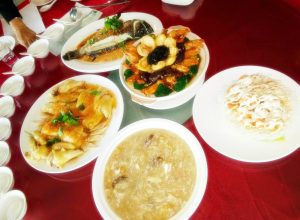 CHERRY Restaurant has come up with a 9-course set menu for Chinese New Year and Chinese New Year Poon Choi Set. Both promotions are available from 15 January 2018 onward. Those who don't want to miss out on the meals for the duration should book aas early as possible.
The dishes promise to be sumptuous with their signature dishes featured in the 9-course Chinese New Year menu. There are 4 types of Hot and Cold Combinations, Eight Treasure Seafood Soup which actually consist of 8 types of seafood and vegetables, Steam Corn-fed Chicken with Dry Scallop, Sesame Salad Prawn with Mix Fruit and Steamed Tiger Grouper.
Besides that diners will also sample Broccoli with Mushrooms, Pacific Clam and Fatt Choi Fried Rice with Smoked Ham. On the menu will also be Lemon Toddy Palm Bean curd.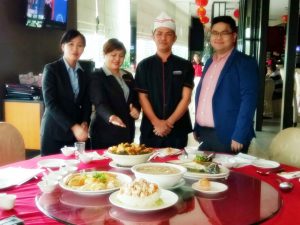 These fares are priced at RM 698+ Per Set for 8-10 pax. If diners want a set of Yee Sang it will be  RM88+ per set. While Chinese New Year Poon Choi menu comprise of Abalone, Fish Maw, Yellow Prawn, Dry Mushroom, Pacific Clam, Sea Asparagus, Slice Abalone, Vegetarian Sheet, Broccoli, Long Cabbage, Straw Mushroom and Scallop, Five Hot and Cold Combinations, Double Boiled Ginseng Chicken Soup, Hakka Style Steam Corn-fed Chicken with soy sauce Shallot Oil, Garlic Rice and Lemon Toddy Palm Beancurd.
This menu is priced at RM 988+ per set for 8-10 pax and with an add on Yee Sang at RM48+ per set.
Cherry Restaurant is the only Chinese restaurant in Inanam area with air-conditioning and free basement car park facility that can accommodate up to 120 people. The restaurant is well-known for its popular selection of Cantonese style dim sum and other scrumptious authentic Chinese cuisine.
They cater for special function such as anniversary dinner, full moon celebrations, birthday and corporate annual luncheon among others. Cherry Restaurant banquet hall can accommodate up to 250 people at any one time.
More information can be acquired from Rosalia Mamporok (Cherry Club Manager) and Wilson Chia (F and B Executive) at 088- 423718 / 088- 429377.-pr/BNN