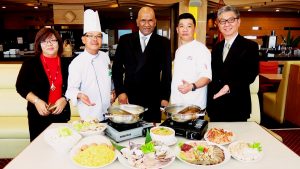 STEAMBOAT also known as Hot pot is usually associated with simmering pots of soup stock at the dining table with the various ingredients around it just waiting to be dipped in and cooked on the spot. The hot bubbly soup and the dips which may include chili paste will usually make a diner sweat, which can be one of the fun of eating this meal.
However, eating this meal in the comfort of an air-conditioned place is actually a plus for most people especially those who wish to eat leisurely without sweating.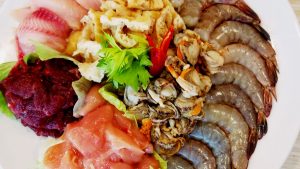 The Klagan Regency at 1Borneo offers a menu for steamboat meal at their Libaran Café. Dubbed Sensational Steamboat, they are serving four types of soup for the meal. These include congee, tom yam, chicken and pumpkin.
Their simmering soup's ingredients include thinly sliced beef, chicken, mushrooms, vegetables and various types of seafood as well as noodles. The cooked food is usually eaten with dipping sauce which includes soya sauce with chili and chili paste. The menu comes with Calamansi juice and rice. Additional ingredients are available, with cost of course.
Priced at RM49 for adult and 50 percent less for senior citizens (60 years and above) as well as children five to 12 years old, it is actually value for money. With the various tasty ingredients and the cool and relaxed ambiance, dining at this cafe is a tad above the norm for steamboats. A definite plus for those who wish to dine on steaming food in an air-conditioned room.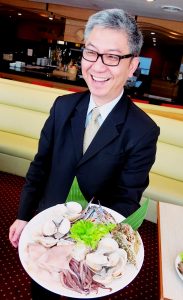 Klagan Regency General Manager Narendra Sinniah says that they took about a month to perfect the menu. There was a series of food tasting and trial before they decided to launch it for February.
According to him, they wanted to serve their hotel guests, mainly Chinese and Koreans, something familiar yet with a local identity. There are hot pots available in their own country, but seeing and tasting a version of the same in another country is always a treat.
As for Libaran Café, it is an outlet with a spacious layout. The dining tables are so well arranged that there is no overcrowding. The whole area can seat about 180 people at any one time. The establishment can accommodate more diners of course, as they have a huge function room. They only have to be informed beforehand.

For those who wish to sample this offering, they can do so from February onwards. Diners can enjoy this menu for both lunch and dinner. Valentine's Day celebrants should give this a thought.
Call them at 088 529 888 for more informations.-BNN