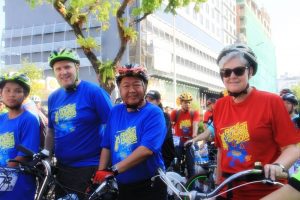 KOTA KINABALU:  In support of autism research, 172  bicycle riders  with Kota Kinabalu City Mayor Datuk Yeo Boon Hai, rode 38 kilometres from Shangri-La's Rasa Ria Resort  and Spa in Tuaran to Shangri-La's Tanjung Aru Resort and Spa, recently.
The two-part "Ride For Autism" event offered an easier seven kilometer route for families, with the second starting point at the Kota Kinabalu City Hall in Kota Kinabalu.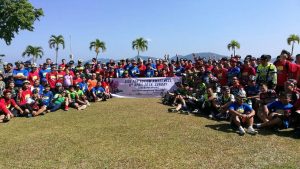 Yeo offered the city hall's complimentary bicycles to some of the families who wished to support the cause but did not have bicycles to take part in the ride.
General Manager of Shangri-La's Tanjung Aru Resort and Spa Gavin Weightman and general manager of Shangri-La's Rasa Ria Resort and Spa Fiona Hagan gave away 35 lucky draw prizes during the closing ceremony at Tanjung Aru.
This is the fourth "Ride For Autism", with the first one organized back in 2015 by Shangri-La's Rasa Ria Resort and Spa and its partners. The ride aimed to  raise public awareness for this disability among Kota Kinabalu city residents.
Money raised at the event was given to the Tuaran Community Rehabilitation Centre to support the centre's educational programme, focusing on educating individuals with autism and other disabilities basic life and communication skills, socialization, recreation and leisure activities.
Other organisers of the event include Sabah Land Rover Club, Sabah Amateur RadioSociety, Kota Kinabalu City Hall and YY Bikes.
Shangri-La Hotels and Resorts remains committed to operating in an economically, socially and environmentally responsible manner whilst balancing the interests of diverse stakeholders. In striving to be a leader in corporate citizenship and sustainable development, a corporate-level CSR Committee drives the company's initiatives in the strategic areas of stakeholder relations, environment, health and safety, supply chain and employees.
These focus areas are unified under the umbrella brand of "Sustainability", together with Shangri-La's core CSR projects "Embrace" and "Sanctuary". Hotel-level Embrace programmes focus on Shangri-La's Caring People Project, which aims to promote the highest level of education and health support in underprivileged communities. Sanctuary programmes concentrate on Shangri-La's Care for Nature Project, which promotes the conservation and restoration of biodiversity. For more information, please visit the group's CSR section on www.shangri-la.com.-pr/BNN