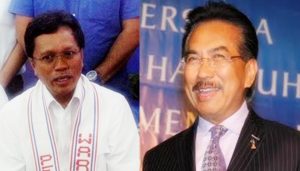 KOTA KINABALU: Parti Warisan Sabah president Datuk Seri Shafie Apdal has  again side-stepped the real reason behind his departure from Umno with a poor excuse; denying that he back-stabbed Prime Minister Datuk Seri Najib Razak while in office.
Sabah Chief Minister Tan Sri Musa Haji Aman said  after failing to secure the next Sabah Chief Minister position, Shafie left Umno and joined forces with another dissident, Tan Sri Muhyiddin Yassin, with his eyes set on the Deputy Prime Minister's post.
"It's not my style to get confrontational but I have to say something. Stop tip toeing around this issue. Let's call a spade a spade. That was why he chose to leave the party," Musa said in a statement.
He said Muhyiddin was sacked in June 2016, together with Datuk Mukhriz Mahathir, after a year-long power struggle with the Umno leadership.
Shafie had already struck a deal earlier with the dissidents before he left the following month, he said adding that it was the trio's game-plan from the beginning.
"To claim that he had placed "the future of the nation" ahead of his friendship with Najib is laughable," he said.
Musa said Najib had done a lot for Shafie, helping him become the Umno Vice President and gave him the important Rural and Regional Development Ministry portfolio, hoping that he would help Sabah.
"I agree that without Najib's backing Shafie would not have achieved the extraordinary opportunity bestowed upon him," he said.
He said Shafie should exercise political maturity instead of acting like a school boy by saying he (Musa) was not comfortable with his position as Umno Vice President.
"If I was uncomfortable, I would have gone for the post myself. Not only I didn't go for  VP , I also did not contest for the supreme council post, due to my commitments as Chief Minister," he said.
He said Shafie is now leading Parti Warisan Sabah, a party formed with his cronies, who reaped much from projects when he was in office.-pr/BNN