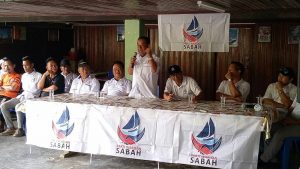 KOTA KINABALU: Kimanis constituents are urged to unite and come out to cast their votes  on May 9.
Datuk Karim Bujang  former BN State Secretary who is contesting the Kimanis Parliamentary seat under Party Warisan Sabah said they should cast their votes without fear for it is their right as citizens.
They must not feel intimidated by certain quarters for they have the power to bring changes in the leadership, he said.
"Remember  that all votes count. All of you are important. Your gentle hands that rock the cradle or work the fields to feed a family,  can make tremendous difference ," he stressed.
He advised voters to check their polling station,  make sure they know where it is,  ensure they have their document and go to the site as early as possible.
He stressed that driving licences and passports as identifications are not permissible.
"You must bring your identity cards, " he said.
"Don't allow anyone or anything  distract you. Just go there and cast your vote," he said, adding that one of the most powerful thing a rakyat can do is Vote.
Changes can only be made when the rakyat come out and make their choice accordingly, he said.
Karim was the State Assemblyman for Bongawan until he was dropped in 2013.
He said the constituents have since appealed to him to return and lead them again, so he decided to take the challenge, stressing that making a difference in the lives of the constituents is motivation in running for the Kimanis Parliamentary Seat and not because of grudges or self interest.
Karim's main contender for the Kimanis Parliamentary seat is BN candidate Datuk Anifah Aman.-pr/BNN