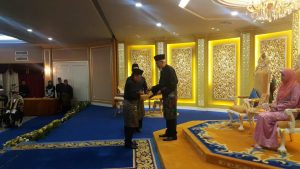 KOTA KINABALU: Last night Party Warisan Sabah chief Datuk Shafie Apdal was sworn in as Chief Minister.
He was sworn in by the Sabah head of State Tun Juhar Mahiruddin at about 9.15pm, taking over from Tan Sri Musa Aman who headed the State for a mere two days.
Musa, who was Sabah BN Chairman took his oath of office on May 10, after getting a simple majority to form the state Government, when STAR president Datuk Jeffery Kitingan and one other candidate joined BN. He managed to acquire 31 seats against Warisan and its allied parties at 29.
However, six BN assemblymen teamed up with Warisan and increased its seats to 35 over Musa's 31.
Last night's event saw leaders and members of Warisan, UPKO, DAP and PKR in attendance.-BNN