KOTA KINABALU:Tasty Wok Venition is offering sumptious food for those who are celebrating the month of May. It is the month when Harvest Festival celebrants want to taste something different outside of their own kitchen.
The fare may be somewhat familiar in Tasty Wok, but they are cooked in such a way that traditional becomes exceptional. The kaamatan set consists of steam white rice, fish (basung) with local dishes such as losun mixed vegetables, salted eggs and assorted pickles.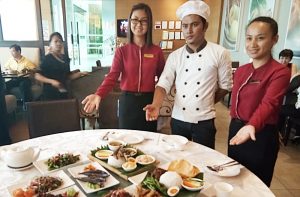 As for those who are fasting and want to break their fast in the comfort of a quiet air-conditioned eatery, they should dine at Tasty Wok. This outlet has just the dishes for you.
You can order the beef rendang set. Or the Ayam penyet. They come with french bean in sambal. The beef rendang, french bean sambal, basung with tamarind and losun mixed vegetables can also be ordered ala carte.
For those who wish to join the Jesselton Diner membership, they may do so by purchasing a card priced RM50. You will be entitled to RM50 cash voucher and enjoy 10 percent discount on ala carte and selected promotional items.
More information can be acquired from 088 728 188.-BNN