KOTA KINABALU: Guests and revelers thronged to Kg Bambangan Inanam Community Hall recently to celebrate the harvest festival.
Some 300 people milled around the area to enjoy the various activities held which included traditional sports competition, best traditional food competition and best tapai competition.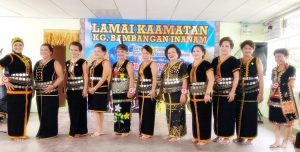 Besides that they also  enjoyed and applauded the various stage activities which included  the Singing Competition, Children fashion competition, the Mature Ladies Contest for women aged 55 years and above and of course the highlight of the day was the Harvest Festival Beauty Pageant, or Unduk Ngadau Kaamatan.
The traditional food competition was a popular station where guests went to sample food that were rarely prepared in most households. Tapai, the traditional rice wine was also available for sampling.
On hand to launch the event was the Inanam State Assemblyman Kenny Chua, who lauded and congratulated the organising committee led by Laura Dosui, for successfully holding such an important community event in the village.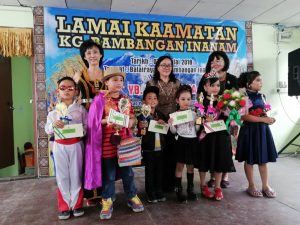 He also pledged to do his best to ensure that the basic infrastructure needed in the village were implemented as soon as possible.
"I know that this area suffers from flood problems due to bad drainage system. We will look into this. I hope the villagers will give us time," he said adding that  they had only been on the government seats for a couple of month and they needed more time.
Meanwhile, Laura said the  harvest festival was organised to  ensure the perpetuity of culture and tradition, that are the identity of the people.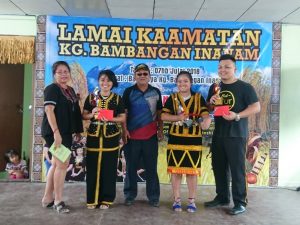 She expressed her hopes that it contributed towards preservation of culture by evoking the interest and participation of youth as well as the general populace there in the celebration.
She thanked her committee members who comprised of those who were keen to hold the festival in their village even though the traditional celebration month of May have passed.
During the event, the Mature Ladies Beauty Contest was won by Mariana Pensin, 61, runner up Normala Lim 60 and first runner up Jeneka Boinson, 58.
The Miss Bambangan Inanam Unduk Ngadau went to Elvira Linda Lee Ing while first runner up went to Fazeera Dius and second runner up went to Camelia Cyntia Peter. The fourth place went to Molly Binmus followed by Violeta Francesca Francis, Francine Gwyneth Tudok and Jeanette Ann Jeppy.
The singing competition was won by Annie Stevenie Stanislaus, second place went to Erica Jeffry and third place went to Fernando Osrin.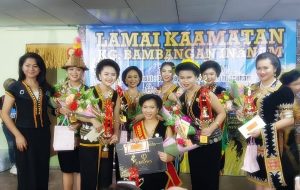 Jayden Soo won the fashion competition for boys catergory, followed by Aaron Arshad and Faiz Iskandar while the girls category was won by  Laura Izzabel Abdullah followed by Anis Nurhidayah Hanisa and Penny Tiffany Stephen Lansing.-ce/BNN