Cooking can be a joy to anyone who enjoys cookery, and love the results of their recipe. Creating something that is appreciated by others and pleasing to the eyes is something else that most people will thrive for.
For Maklin Masimbo, cooking is his passion and he always make sure that whatever he presented is his best. This Pastry chef who comes from Pitas said he learned the arts of cooking by observing the chefs in his place of work.
He started in the kitchen as a steward.  A kitchen steward can be thought of as the bottom of the chain in the kitchen but to Makilin it was a process of learning. He helped with the cleaning in the kitchen and helped to dispose of trash, cleaning dinnerware, mopping dirty floors and putting away delivered supplies.
He first started work in a hotel in the 1980's where his first hotel was Beaufort international, which later became Tanjung Aru Beach Resort and Spa. That was when he went into pastry, seriously. He trained under chef from France, Italy, Germany, Australia and Switzerland. This meant that he was very well versed about the various ways these nationalities made their bread and pastries.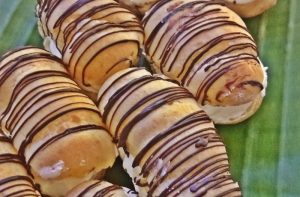 He later moved to Nexus Karambunai where he stayed for ten years. Here again he presented his pastry making skills while honing his own expertise.  He then moved to Sutera Harbour Resort and then later to the Promenade Hotel Tawau where he stayed for eight years.
Presently, he is working at the Klagan Regency sited at 1Borneo.
Speaking about his experience, he said he had interesting times in all the hotel he worked for and he had garnered so much experience from the chefs that he had worked with.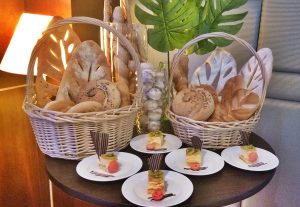 "It can be stressful working with people in a huge kitchen as we all have our own opinions and ways of working, but I think it's all part of our job," he shared adding that he goes out to town to de-stress sometimes but mostly he loved just going home and be with his family.
He has four children who ranged in age from 32 to 18 years, and he shared that they were all interested in cooking but only one of them seemed to be inclined to follow him, in his career.
"I always encouraged my children in whatever careers they choose. If they want to be involved in culinary I will always be there for them," he said.
On his pastry recipes, he said he has thousands of them with some written on his own notebook.
"I don't know if I will ever compile them in a book to be published but who knows in future," he shared adding that when his children are all grown he would take employment overseas, just so he could travel and see the world.
"Italy and France come to mind, as they are well known for their variety of bread. I also did not taken overseas jobs while my children are young, as I believe that I should be part of their everyday life. But when they are all grown, I will be free to travel," he said.
On a career as a chef, he shared that youth who wished to embark in culinary after school must be serious about it and not just to fill in spare time.
"It is a good career as you can earn good salary as a chef in a hotel. You can even travel the world, as you have a chance to be employed in cruises," he said.
As for being in Klagan Regency, he shared that he will be presenting his best recipe and creations to their guests and friends.
Those who wish to tie the knots in Klagan Regency will have a chance to view and order wedding cakes by Makilin. He makes a mind boggling array of pastry and cakes, too, so guests will not run out of goodies to sample.-ce/BNN