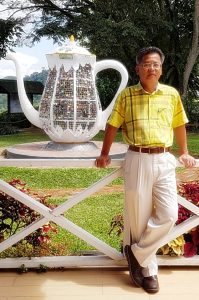 The cool breeze blows gently as the sun began to shine in earnest. The leaves rustles and the blooms nodded gently in the morning sun. All is tranquil and calm. Getting up from a restful night and walking into the dining area for breakfast is a journey that is so blissful, that one doesn't in the least mind getting used to it.
This is the ambiance at the Sabah Tea Resort and its restaurant and Tea Shop. This resort is sited within a tea plantation on a hill where one can wake up to the sights of Mount Kinabalu, the highest mountain in Malaysia, in the distance.
The resort's restaurant is open to both house guests and walk in diners, the Resort general manager Martin Kong shared, adding that it is a popular place for travellers who are passing by to other districts such as Telupid, Sandakan, Lahad Datu and Beluran among others. Diners who live around the area and love the restaurant's ambiance also frequent the place.
Many guests from the Peninsular Malaysia and around Sabah and Sarawak have visited the resort and the restaurant to taste what they have to offer. They seldom if ever go away disappointed. The innovative and creative dishes titillate the palate and encourage seconds as well as return diners.
The restaurant offers many types of dishes; mostly it's the standard fare, noodles and rice with the various accompanying dishes. The taste is as should be expected in such a well-known outlet.
However, one should really try their tea innovation. If you have never eaten tea pancakes, then get a taste of it in this restaurant. The pancakes have a very distinct tea flavour, which makes one think of healthy food. Spread with honey, this pancake is really something to look out for.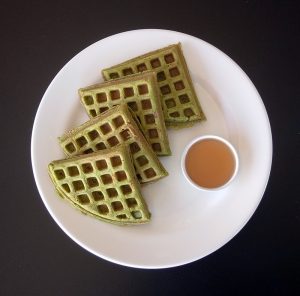 They also serve tea flavoured waffles. This is best consumed piping hot, with dribbled honey on top. These are actually breakfast food, eaten with hot tea. For lunch, guests should try their innovations Bambangan chicken and tuhau beef. The bambangan chicken is savoury with bambangan bits on it. This dish encourages seconds actually. The Tuhau beef has one of a kind taste. A must try dish, for those who love tuhau. A personal favourite is the local vegetable, fried with white chilli on top. It has its own unique taste, kudos to the chef.
In the afternoon after a walk around the plantation, guests should come for the evening tea and taste their scones. This is a brought forward from the colonial days, where Mems sip tea in the afternoon, eating scones with cream and marmalade. After that, you can indulge in the divine coldness of tea flavoured ice-cream.
There are of course lots of dishes available, Kong said there about 40 to 50 food items listed on the menu, mostly featuring local favourites list.
"We do revised it every now and then especially during the festive season," Kong enthused.
For those who travel in groups, the restaurant is just the place to go as it can seat up to 150 people, in a spacious setting. There is plenty of elbow room, so you don't get jostled by hurrying waiters and enthusiastic diners.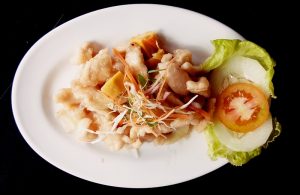 If there are more groups coming in, the restaurant will serve food buffet style. They can cater to more than 300 people. Buffet allows diners to get their food faster as opposed to ala carte. Five chefs man the kitchen in the restaurant which is open from 7am to 9.30pm.
Actually walk in guests coming for dinner could hit a deal sometimes especially when the rooms are not all taken.
"We put up a sign in front of the restaurant to inform our guests that they can stay in our resort at a reduced price. That way, after dining, they can straightaway go to the rooms and rest," Kong shared.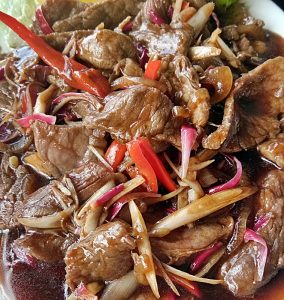 So if you are interested to stay for a while at the Sabah Tea Resort in Ranau and  enjoy the peaceful ambiance and the delectable food, don't hesitate to visit. The site is about two and a half hour drive from Kota Kinabalu. There is a signboard by the roadside pointing you to this place. Call 088-440882/876611 for directions and more information.-ce/BNN