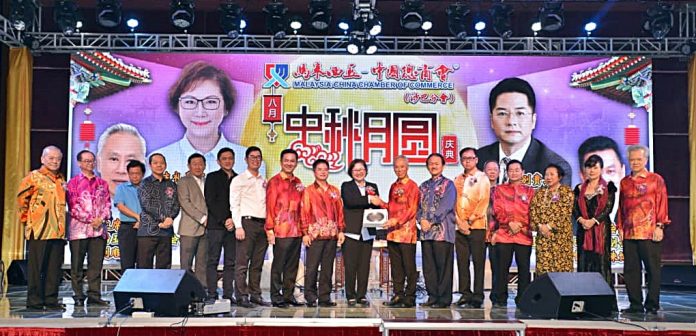 KOTA KINABALU: The Malaysian Chinese Chamber of Commerce (MCCC) Sabah Branch must embrace changes to ensure progress and development.
Its Sabah Branch president Datuk Frankie Liew said they must accept and adapt to new things and new styles of this new era following the first political alternation in the history this year.
He stressed that they will face changes due to the advances in various technologies but without changes they would fail to progress.
"Fortunately our new government greatly encourages people to be active in businesses and industries," he said adding that they maintained close contact and interaction with businesses and listen to the views of the business community.
Speaking during the MCCC mid autumn festival dinner held at Hakka Hall, he added that they also cooperate with each other to attract more investment, review and implement projects that benefit the people and promote the economic development of Sabah.
He said they in MCCC are looking forward to the future and will work closely with the federal and state governments.
"Wherever there is a need, our elite members from all fields will make every effort to help," he said.
He also announced that they have established a committee of young entrepreneurs and women entrepreneurs.
"The young entrepreneur committee is led by our deputy vice president, Mr. Dexter Lau. The women entrepreneurs committee is led by our deputy secretary, Ms. Tan. The young entrepreneurs and women entrepreneurs committee will be officially sworn in with the reelection of our council next year."
He said they have gathered elite from various industries, and will explore and promote various activities and conferences for MCCC in the future.
Frankie also thanked the Consulate General China in Malaysia for their cooperation and help over the years where they supported MCCC in a local cultures activities and educational events.
Also present during the event were Deputy Chief Minister cum Ministers of Tourism, Culture and Environment Christina Liew, His Excellency Counsel General Liang Caide, Datuk Mayor Yeo Boon Hai and The United Sabah Chinese Communities Association of Kota Kinabalu President Datuk Susan Wong.-By LSK/BNN