Homestay is quite popular in Sabah and is mainly aimed at those who want to experience the local ethnic community's lifestyle. Homestay is of course where guests stay with the host family in their home environment and participate in their everyday life activities.
One of the best places to go to experience the local lifestyle is Kiulu where the populaces are mostly Kadazandusuns.  Visitors will enjoy not only the homes and warm hospitality of the people but also the fresh outdoor of an almost pristine area, where the forests are still intact and the rivers unsullied.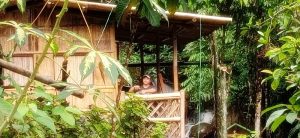 In Kampung Pinagon Kiulu, there are four houses participating in the homestay programme. One of them belongs to Saidin Tupas, who has three rooms to offer to his guests. The rooms are simple but adequate and comfortable for guests. Saidin who works with Borneo Eco Tours Sdn Bhd also serves as a tour coordinator for all the tourism attractions in that area.
They are charging RM30 per head not inclusive of breakfast, lunch and dinner. Those who wish to have food will have to shell out a little bit more for these edibles. It will be quite a bargain as visitors can sample local food, that are mostly gathered in their own garden as well as the fringe of the forest around them. This ensures that guests do not only sample local dishes but also healthy organic food.
There are several activities that guests can join in during the tenure of their stay. This include paddy farming work, such as harvesting when it is in season, threshing, pounding rice and de-husking them as well as separating them from the skins. These can be quite interesting to those who have never done it before.
There are also activities that are quite strenuous but fun, such as fishing with a net in the river; learn how to tap rubber or even something that is quite sedentary, aiming at balloons with a blowpipe.
Those who stay in their farmstay, sited by a river with a beautiful view of paddy fields and the forest, will have additional knowledge on waste management.
Saidin shared that they will show guests how they treated waste water collected from their bath using a waste management system called the 'banana circle system'.
"The water is treated using natural environment technology without adding any chemical. The treated water will be used to water the plants and vegetables in the farmstay," Saidin said.
Their guests are allowed to pick vegetables from their homestay and cook it for their dinner which should be around 5pm.
For those who stay longer the hosts have various other activities for their guests.  They can go jungle trekking and crossing the river to see the tagal system, which is the traditional way to breed fish in the river.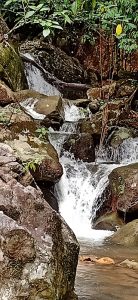 Guests will also have a chance to look at their orchards where banana, pineapple, mango, durian, and others fruits abound. This is especially true during the fruit season. In fact, guests will also have a chance to sample their pineapple jam and pickles. Saidin's wife is very good in making these delicious condiments. They are very popular among the visitors and varsity students. She also makes tasty serunding tuhau (desiccated wild ginger). These items are so well received that their orders are all the way from Thailand.
"During the fruit season we usually have our guests sample the durian for free. It seems most Caucasians don't like the smell and taste even though they are curious enough to try it," Saidin shared.
For those who wish to stay in Bamboo houses, reminiscent of the houses of yore, this area has two beautifully made bamboo houses and a bamboo bungalow at the farmstay to stay in. The bamboo houses are sited prettily near the river and one even near a waterfall.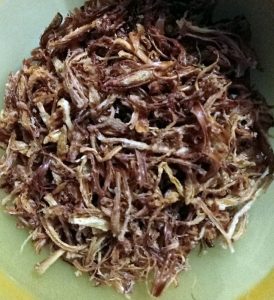 This beautiful village is sited 40km from Kota Kinabalu, the State Capital and about one hour-drive away. It is nearby Tamparuli township.
The homestay there comes highly recommended due to the attention to details by the homestay participants and their enthusiastic sharing of their culture and traditions. More information can be acquired from Saidin at 012 8695962 or Borneo Eco Tours at 088-438300.-ce/BNN