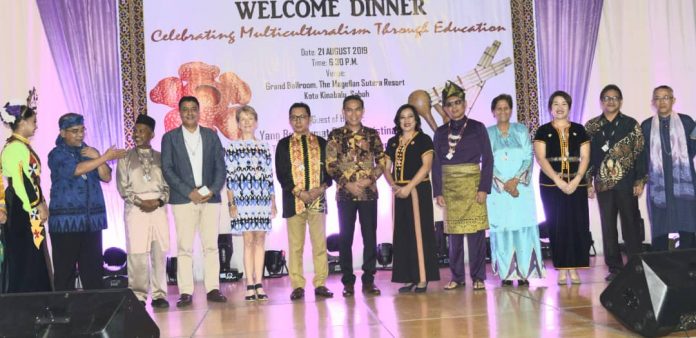 KOTA KINABALU: The English Language Teaching (ELT) forges closer cross-cultural connections and prospective networking and collaboration among people of different origin and nationalities, said Deputy Chief Minister cum Tourism, Culture and Environment Minister Datuk Christina Liew.
She said cross-cultural connections, prospective networking and collaboration foster better understanding of the rich diversity of the cultures and customs of the people.
"In the era of digital media, the role of English as a lingua franca in promoting cross-border tourism cannot be underestimated," she said at the conference dinner of the 6th Malaysian International Conference on Academic Strategies in English Language Teaching (My_CASELT) and the 3rd Language Invention, Innovation & Design (LIID) Exposition 2019 held at the Magellan Sutera Resort and Spa here Wednesday. Her speech was read by Assafal P. Alian, Assistant Minister of Tourism, Culture and Environment.
"It is no exaggeration to say that one can sell a place with language. In order to promote places of interest to visitors, English the language for international communication has the power to introduce not only the place, but also the local languages and cultures to people from other regions and cultures," she opined.
Liew also stressed that language education plays a vital role in promoting the diverse languages, cultures and customs of the various ethnic groups in Sabah.
On the dinner theme "Celebrating Multiculturalism through Education", she said in order to showcase the multiculturalism of Sabah in the international level, networking and collaboration in the education domain, particularly research and publication across nations and cultures was quintessential.
"Language serves as a crucial tool to understand the cultures and customs of a community. In preserving the indigenous languages of the communities in the Asian region, there are still a number of local languages that are yet to be explored and studied in depth. Perhaps, research gaps such as this, can be considered for future research for language scholars and researchers."
She also mentioned that Sabah located in the North-East of Borneo Island and one of the most culturally diverse states in Malaysia, is home to more than 30 different ethnic groups who speak over 80 local dialects.
"Sabah is also rich in nature and wildlife, which has become a key tourist attraction to visitors from abroad. In 2019, our plan is to boost tourism activities on the East and West coasts of Sabah.
"In Kundasang, we have the famous Mount Kinabalu; in Sandakan, we have the orangutan sanctuaries; in Tawau we have the world's tallest tropical tree; in Semporna we have world-class diving spots and in Lahad Datu, we have one of the oldest rainforests suitable for tourists who love adventures," she said.
"In the last two decades, the tourism sector has become one of the key pillars of Sabah's economy. According to our Chief Minister, YAB Datuk Panglima Shafie bin Apdal, tourism is the third income contributor of the state. In 2019, we hope our tourist arrivals will reach 4 million. Thus, promoting Sabah as a travel destination has always been the heartbeat of the Sabah Ministry of Tourism, Culture and Environment," said Liew.
She also thanked the organisers and participants for holding the event.
---
Meanwhile, Rector of Universiti Teknologi Mara (UiTM) Datuk Associate Professor Dr Haji Abdul Kadir Haji Rosline said academic discourse such as conference presentations and discussions enhance the effectiveness of English Language Teaching (ELT) in respective languages teaching and learning setting.
He said they were proud to host the conference.
According to him, the theme for this year's My_CASELT conference dinner is "Celebrating Multiculturalism through Education" with two possible interpretations.
The theme chosen reflects multiculturalism as manifested here in the gathering of academics, researchers, language educators and language teacher trainers within the community of ELT from various racial, linguistic and cultural backgrounds.
"It is like a melting pot which embodies the diverse cultures, traditions and values of individual participants. And tonight, through this conference, we are celebrating the cultural diversity and richness among us," he stressed.
"Second, multiculturalism is also celebrated in English language education," he said adding that adopting a liberal cultural stance in language education or in Kubota's (2012) term, "liberal multiculturalism" requires them to accept, appreciate, respect and tolerate diverse cultures, customs and lifestyles which may be very different from our own cultures and values.
He said in teacher-student classroom interaction, language educators are exposed to learners' different cultures and customs and vice-versa.
According to him, in the local multi-ethnic, multilingual, and multicultural society, the English language educator may be of Chinese ethnicity while the learner may come from the Malay ethnic group with different cultures, beliefs and lifestyles.
"In the second language classroom, language teachers often adopt a liberal stance towards multiculturalism and diversity. They embrace cultural differences, accept unfamiliar value systems and appreciate foreign customs and practices (Kubota, 2012). Thus, multiculturalism is celebrated in the ELT classroom," he said.
According to him, the theme is reflected in both the research papers presented and the innovative language teaching designs and products displayed in the conference.
He also thanked presenters for their contribution to the conference and expressed his hope that participants will take an active role in the two-day conference for exchanges of ideas and the generation of new insights pertinent to ELT in a globalised environment.
Jenifer Lasimbang, Assistant Minister, Sabah Ministry of Education and Innovation, Associate Professor Dr Ahmad Mazli Muhammad, Dean of Akademi Pengajian Bahasa (APB) UiTM, Professor Dr Fauziah Noordin, Assistant Vice Chancellor, Institute of Leadership and Development (ILD) UiTM, Dr Linda New Levine, representative of the US Embassy in Malaysia, and  Aries Henry Joseph, Chairperson of My_CASELT 2019 & Ketua Pusat Pengajian (KPP) of APB UiTM Cawangan Sabah, were also present. – pr/BNN